March 26, 2021
Your weekly roundup of news and analysis of elections in Asia and the Pacific, usually posted on Fridays and occasionally updated throughout the week. For a full electoral calendar and interactive map, click here.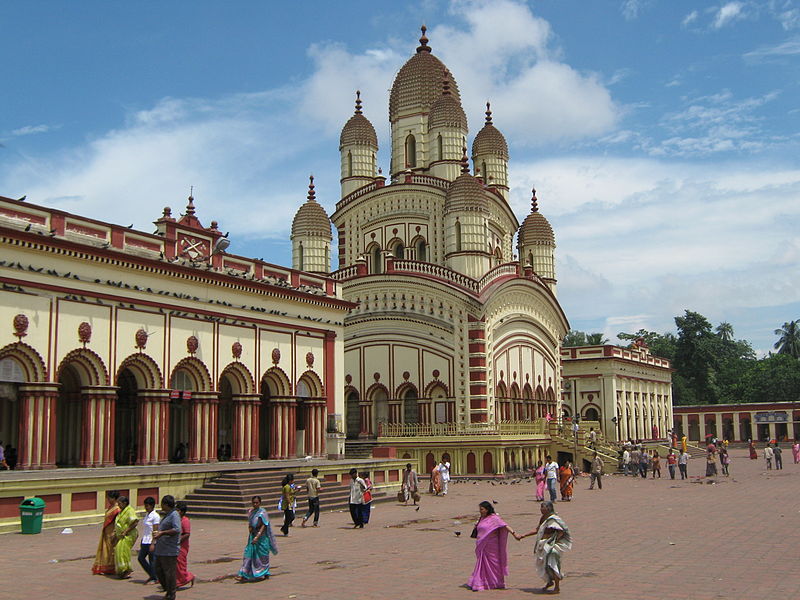 The Dakshineswar Kali Temple near Kolkata, capital of India's West Bengal state. West Bengal, along with several other states, heads to the polls this month in a key test for PM Narendra Modi. Photo credit: Wikimedia/Knath (CC BY-SA 3.0)
Upcoming Asia/Pacific Elections
India: Five State Elections: March 27-May 2, 2021
Elections in four Indian states (West Bengal, Assam, Tamil Nadu, and Kerala) and one union territory (Puducherry) begin on March 27 and will conclude on May 2. These elections, involving 180 million voters, will be a key test for the national parties, but regional parties also play a big role. Meanwhile, farmers protests continue in and around New Delhi. In addition, a number of local elections are going on. More
Wescott Yeaw, Foreign Brief (March 27, 2021): Indian assembly elections start today
Aarti Betigeri, Lowy Institute's The Interpreter (March 26, 2021): In India, a taste of political variety
Ankita Mukhopadhyay, DW (March 26, 2021): India: Why West Bengal state elections are a test for secularism
AP (March 26, 2021): India election: Modi faces big challenges in Muslim areas
Deccan Herald (March 25, 2021): In Pics | Campaigning heats up in Tamil Nadu ahead of elections
Hindustan Times (March 24, 2021): Here's how Twitter is gearing up for Assembly Elections in India
Ramesh Thakur, ASPI's The Strategist (March 23, 2021): India's growing democratic deficit
Thailand Municipal Elections: March 28, 2021
Thailand holds municipal elections on March 28, 2021. These follow the December 20, 2020 provincial elections, the first since the country's 2014. After that, officials have said they will schedule elections for other types of local elections (such as municipal offices and Bangkok city council). More
Bangkok Post (March 26, 2021): Slew of arrests before municipal polls
Emmy Sasipornkarn, DW (March 24, 2021): Thailand protests: What's next for the stalled pro-democracy movement?
AFP (March 24, 2021): Thai protesters defy police and rally in Bangkok for royal reforms
AP (March 21, 2021): Thailand protests: scores injured as police clash with pro-democracy activists
South Korea By-Elections: April 7, 2021
South Korea's April 7 by-elections are more important than usual because both Seoul and Busan (South Korea's second-largest city) both hold special elections for mayor. This is because the former mayor of Seoul died and the former mayor of Busan stepped down in the face of sexual harassment allegations. Several other municipal posts throughout the country are up for election as well. The elections are a key test for the center-left government and conservative opposition ahead of next year's presidential election.
NHK World (March 25, 2021): Mayoral election campaigns begin in S.Korea
Jeong-Ho Lee, Bloomberg (March 25, 2021): Moon's support hits record low amid South Korean land scandal
Yosuke Onchi, Nikkei Asia (March 24, 2021): South Korea's opposition forges united front in Seoul mayoral race
Samoa Parliamentary Elections: April 9, 2021
Samoa will hold general elections on April 9, 2021. These elections are happening in the context of controversy over proposed changes to the county's constitutional framework and judiciary, involving questions of Samoan identity. A new opposition party, Fa'atuatua i le Atua Samoa ua Tasi (FAST, "Faith in the one true God"), is posing a new challenge to the Human Rights Protection Party (HRPP), which has been in power since 1982. More
RNZ (March 27, 2021): Samoa caretaker leader supremely confident on poll chances
RNZ (March 26, 2021): Electioneering ramping up in Samoa amid calls for change
Maldives Local Elections: April 10, 2021
Maldives has scheduled local elections for April 10, 2021, following a delay due to COVID-19. Voters will elect island, atoll, and city councils to three-year terms. The country was under a brutal dictatorship for decades, but began a remarkable transition to democracy in 2008. The road to democracy has been somewhat rocky, but Maldivian democrats persevere. More
Aishath Hanaan Hussain Rasheed, Raajje (March 24, 2021): Parliamentarians travel to atolls for campaign under Speaker Nasheed's directive
Vietnam Legislative Elections: May 23, 2021
Vietnam, a one-party communist state, is due to hold legislative elections on May 23, 2021. For the most part, only candidates from the Communist Party of Vietnam and those who support it are able to run. In addition, dissidents face arrest and assault. More
VNA (March 25, 2021): Nomination of candidates for upcoming elections completed: Official
Malaysia Sarawak State Elections: By August 7, 2021 and Possible Snap Parliamentary Elections
Malaysia's Prime Minister Muhyiddin Yassin has indicated that he will in fact call early general elections once the COVID-19 pandemic is over. Meanwhile, several of Malaysia's states are due to hold elections in the next year. The country's politics have been turbulent since the historic defeat of UMNO – which had ruled since 1957 – in the 2018 elections. UMNO is back in power but hanging on by a thread. More
P Prem Kumar, Nikkei Asia (March 27, 2021): Knives out for Muhyiddin as Malaysia's largest party UMNO gathers
Coconuts KL (March 26, 2021): Malaysia's youth to protest outside Parliament building over voting age delay
Vincent Tan, Channel News Asia (March 25, 2021): What to watch out for at this weekend's UMNO general assembly
R. Loheswar, Malay Mail (March 25, 2021): Dr Mahathir: Muhyiddin may call early elections so he won't have to contest against Muda and Pejuang
Hong Kong Legislative Elections: September 5, 2021 (delay likely)
Hong Kong plans to hold elections to the Legislative Council on September 5, 2021, after a year's delay. However, further delays are likely. These elections are taking place in the context of Beijing's determination to gut Hong Kong's democracy. More
Selina Cheng, Hong Kong Free Press (March 26, 2021): First meeting of Hong Kong election overhaul committee told it cannot change Beijing's blueprint
Alex Lo, South China Morning Post (March 26, 2021): Will there be a Hong Kong Legislative Council election this year?
Weifeng Zhong, The Dispatch (March 25, 2021): Hong Kong isn't an endgame for China. It's a starting point.
Timothy McLaughlin, The Atlantic (March 22, 2021): What the Hong Kong Protesters' Trial Reveals About Beijing
Macau Legislative Elections: September 12, 2021
Macau is a Special Administrative Region (SAR) of China, having reverted from Portuguese control to Chinese control in 1999. The main industry is gaming, with a casino sector seven times the size of that of Las Vegas. The legislature is dominated by pro-Beijing politicians, who hold 29 out of the 33 seats, with pro-democracy politicians holding the remaining four.
Jorge Menezes, Hong Kong Free Press (March 27, 2021): Macau media 'gag' forces Portugal out of its shell to issue stinging rebuke to China over its obligations
Japan General Elections: On or Before October 22, 2021
Japan is due to hold general elections by October 22, 2021, but they could happen earlier. In addition, Prime Minister Yoshihide Suga, who replaced Shinzo Abe last year, faces a leadership contest in his conservative Liberal Democratic Party ahead of the general elections.
Matt Alt, New York Times (March 26, 2021): Why QAnon flopped in Japan
Yukihiro Sakaguchi, Nikkei Asia (March 25, 2021): Suga's LDP rivals struggle to make ground in Japan election year
Kyodo News (March 20, 2201): Japan's bid to raise ratio of female election candidates to 35% hard to achieve
Philippines Presidential Election: May 9, 2022
In 2016, populist firebrand Rodrigo Duterte won the presidency, claiming to be an outsider. He has governed with an iron fist. Although he is banned from seeking a second term, critics fear that he will seek to consolidate illiberalism in the form of a handpicked successor. Meanwhile, a broad coalition of opposition figures have formed 1Sambayan (One Nation) in the hopes of defeating Duterte's allies with a united front.
Mong Palatino, The Diplomat (March 26, 2021): A Philippine plebiscite that rebuked President Duterte and China
Jayeel Cornelio, Rappler (Marach 24, 2021): [OPINION] The opposition is rising
Joseph Peter Calleja, UCAN (March 23, 2021): Philippines: Church and political leaders unite against Duterte
Maria Elena Little Endara, VOA (March 23, 2021): Analysis of trolling reveals effort to undermine Philippine journalist
Carlos Santamaria, GZERO (March 22, 2021): China makes a big move in the South China Sea
Cambodia Local Elections: June 5, 2022 and Parliamentary Elections: July 2023 (due)
Cambodia is due to hold local elections in 2022 and general elections in 2023. Although Cambodia has held elections in the past that had some element of competition, the 2018 election – neither free nor fair – signified the closing of Cambodia's political space. They have been called "the death of democracy." The main pro-democracy opposition, Cambodian National Rescue Party (CNRP), was dissolved and banned from fielding candidates, and its leader, Sam Rainsy, was sent into exile, so its supporters boycotted the polls, resulting in the ruling Cambodian People's Party (CPP) taking 58 out of 62 seats in parliament, and allowing Prime Minister Hun Sen to consolidate even more power while extending his three decades in power.
The Economist (March 27, 2021): Cambodia's strongman is trying opposition politicians en masse
Nepal Parliamentary Elections: 2023 (due – snap elections possible)
In December, Nepal's prime minister decided to dissolve parliament and call for new elections. However, on February 23, the Supreme Court overturned the decision. Nepal's political crisis continues. More
Dinesh Bhattarai, IPS (March 22, 2021): Nepal's ongoing political limbo
Tika R Pradhan, Kathmandu Post (March 23, 2021): Nepali politics is becoming devoid of principles, ethics and ideologies
Past Asia/Pacific Elections
Federated States of Micronesia Parliamentary Elections: March 2, 2021
The Federated States of Micronesia (FSM, or simply Micronesia) held parliamentary elections on March 2, 2021.
In addition, Chuuk state, Micronesia's most populous state, is planning to hold a referendum on independence in 2022. Some politicians in Chuuk object to the way United States funding is distributed, and therefore are calling to secede. Meanwhile, China has been increasing its presence and influence in the entire region, including Chuuk, which is militarily strategic and close to American military facilities in Guam. Chuuk secession – coupled with Beijing's bankrolling – would benefit China geopolitically. More
FSMIS (March 22, 2021): FSM announces results of congressional elections
Burma General Elections: November 8, 2020
Burma, also called Myanmar, held general elections on November 8, 2020. Aung San Suu Kyi's National League for Democracy (NLD) won in a landslide. However, on February 1, the military staged a coup, claiming election fraud (despite a lack of evidence). Protests against the coup continue. More
Reuters (March 26, 2021): Myanmar's junta says it will strive for democracy after chilling warning to protesters
Ann Carter, Thaiger (March 23, 2021): Sorry, not sorry: Myanmar's military says it's sad about killings, but won't stop crackdown
Joshua Kurlantzick, World Politics Review (March 22, 2021): Myanmar's junta stumbles as it tries to follow Thailand's playbook
George Petras, Janet Loehrke and Shawn J. Sullivan, USA Today (March 20, 2021): What's happening in Myanmar? Military coup and protests explained visually
21votes does not necessarily agree with all of the opinions expressed in the linked articles; rather, our goal is to curate a wide range of voices. Furthermore, none of the individuals or organizations referenced have reviewed 21votes' content. That is to say, their inclusion should not be taken to imply that they endorse us in any way. More on our approach here.