August 31, 2021
A weekly review of news and analysis of elections in the greater Middle East and North Africa, usually posted on Tuesdays and occasionally updated throughout the week. For a full electoral calendar and interactive map, click here.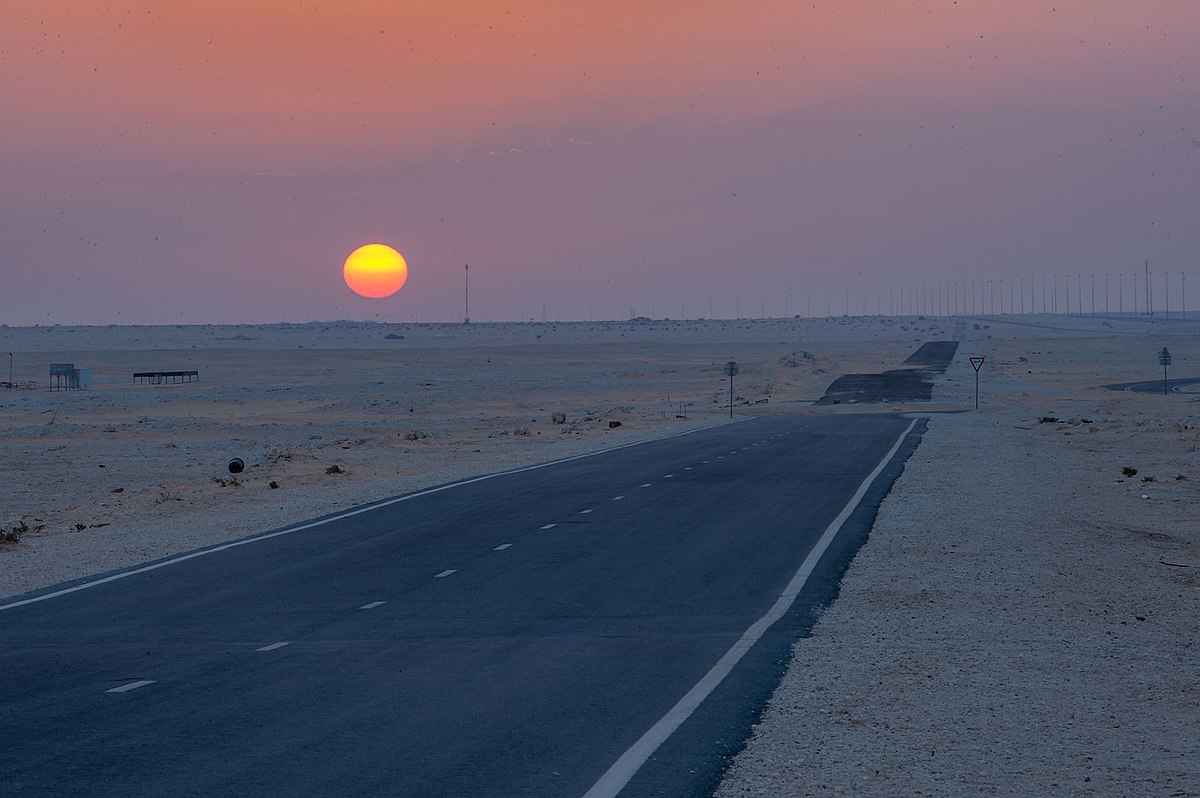 A road in Qatar. Qatar holds its first-ever legislative elections in October. Photo credit: Wikimedia/Alex Sergeev (CC BY-SA 3.0)
Upcoming Middle East Elections
Morocco Legislative and Local Elections: September 8, 2021
Morocco has set legislative, provincial, and local elections for September 8, 2021. The elections are taking place in the context of discontentment and disillusionment. Although the current monarch, King Mohammed VI, has instituted a number of political reforms, he still plays a major role in governing, both through formal structures and informally. Following the 2011 constitutional reforms, the king must appoint a prime minister from the party that wins the most seats in parliament, but the king can still circumvent elected officials in various ways (including dissolving parliament or simply issuing decrees).
In the last elections, in 2016, the moderate Islamic democratic Party of Justice and Development (PJD) won the most seats. However, the king sought to sideline PJD as much as possible with ministerial appointments. More
TV5Monde (September 1, 2021 – in French): Morocco: legislative elections with elected officials without much decision-making power
Africanews/AFP (August 27, 2021): Morocco: campaigning begins for September elections
Israel is due to play a complicated role in the upcoming Moroccan elections, as the rift between the kingdom and neighboring Algeria growshttps://t.co/HyBkZDzZ7H

— Haaretz.com (@haaretzcom) August 27, 2021
APA (August 25, 2021 – in French): Morocco: digital, a new weapon for candidates in the September 8 elections
Qatar Shura Council Elections: October 2021 (announced – date not set)
Qatar has announced that it will hold its first-ever parliamentary elections (Shura Council elections) in October 2021. Qatar is an absolute monarchy in which the emir holds all political power. The only elections that the country has ever held have been for the Central Municipal Council, an advisory body with no real power. Political parties are not allowed. Moreover, the vast majority of people who live in Qatar are not citizens, and have no political rights. The Shura Council has existed since 1972, but has few real powers. 
Some have criticized these elections as a cosmetic reform undertaken because of increased pressure because Qatar will be hosting the football World Cup in 2022. More
Benjamin Weinthal and Jonathan Spyer, Jerusalem Post (August 31, 2021): Qatar under fire for election crackdown on dissident tribe
Aya Batrawy, AP (August 30, 2021): Qatar emerges as key player in Afghanistan after US pullout
I talked to @DeutscheWelle on elections in #Qatar. Should look at it as a PR stunt or a step toward democracy. I said neither. It would be unfair to say it's a PR move – but we are still very, very far from democracy. @JenniferHolleis @KnippKersten2 https://t.co/4gsVGDVdSA

— Dr. Cinzia Bianco (@Cinzia_Bianco) August 25, 2021
Iraq Early Parliamentary Elections: October 10, 2021 (tentative) and Provincial Elections (due)
Iraq plans to hold early elections on October 10 (postponed from the original proposal of holding them on June 6, 2021, one year early) as a result of the pro-democracy protests that began in 2019. The country is also due to hold provincial (sometimes called governorate) elections. Preparations are taking place in the context of widespread protest and political instability.
The current political climate is violent and chaotic, with over 600 people killed since the start of the protests. Moreover, a number of political parties have announced plans to boycott the polls. The Shi'ite firebrand cleric Muqtada al-Sadr, one of Iraq's most influential politicians, had announced a boycott, but has since reversed course and urged his followers to support the elections. More
The New Arab (August 31, 2021): The Iraq Report: Baghdad hosts regional summit to paper over domestic woes
Qassim Abdul-Zahra and Zeina Karam, AP (August 28, 2021): Iraq brings together Mideast rivals in bid to ease tensions
Al-Monitor (August 27, 2021): Iraq's Muqtada al-Sadr announces support for elections: Sadr's announcement comes a month after he called on his supporters to boycott the October elections
Mustafa Shilani, Kurdistan24 (August 26, 2021): Boycott of Iraqi election 'not an effective strategy' for parties: UN envoy
UN News (August 25, 2021): Iraq: Clock ticks on all-important elections, commitment to credibility needed
Jordan Local Elections: Fall 2021 (due)
Jordan is due to hold local elections in fall 2021. These follow parliamentary elections, which happened on November 10, 2020. Turnout was low, and both women and Islamist candidates saw poor results. Subsequently, King Abdullah II announced a new high-level committee to enact political reforms. This is not the first such effort in Jordan, and past attempts at change have been a disappointment to those who hope for reform, but it could be promising. More
Jordan Times (August 30, 2021): Lower House approves draft local administration law of 2021
Lebanon Parliamentary Elections: May 2022 (due)
Lebanon is due to hold general elections in May 2022, although some parties have called for early elections. The country has been in a political crisis and without a government since the port explosion in Beirut, in which 215 people died, 7,500 were injured, and 300,000 were left homeless. Moreover, Lebanon is in an economic crisis.
Bassem Mroue, AP (September 1, 2021): Hezbollah hammered with criticism amid Lebanon's crises
Reuters (August 31, 2021): Lebanon parliament speaker Berri urges government formation this week, "not longer"
Palestinian Authority Presidential and Legislative Elections: Long overdue, postponed indefinitely
The Palestinian Authority has postponed its long overdue elections for the legislature and president, which had been scheduled for May 22 and July 31, respectively. Palestinian Authority President Mahmoud Abbas is currently in year 16 of a four-year term. Similarly, the last Legislative Council elections took place in 2006. More
Ahmad Melhem, Al-Monitor (August 31, 2021): Palestinians not optimistic about future, PA faces dwindling popularity
Past Middle East Elections
Tunisia Presidential and Legislative Elections: September/October 2019
Tunisia began transitioning to democracy in 2011, amid the Arab Spring protests, and in 2019, held the third national elections since the fall of dictator Zine El Abidine Ben Ali.  Political outsider and populist Kais Saied won the presidency. The results indicated a rejection of the main political parties and post-Ben Ali political ideologies (Islamism and secular liberalism). However, some concerns lingered about the democratic process.
In July 2021, Saied dismissed the government, a move that some deemed a coup.
Al Jazeera (August 31, 2021): Tunisia issues arrest warrant for former presidential candidate
Raed Ben Maaouia, African Arguments (August 30, 2021): Don't let Tunisia's democracy slip
Vivian Yee, New York Times (August 26, 2021): Populist Hero or Demagogue: Who Is Tunisia's President?
Afghanistan Presidential Election: September 28, 2019
Afghanistan held its last presidential election on September 28, 2019. Ashraf Ghani ultimately won re-election in a very tense vote and a tense four months in between the election and the final declaration of results, defeating his main rival, Abdullah Abdullan. The election took place amid attacks by the Taliban, which had ordered Afghans not to vote.
Following the United States' withdrawal from Afghanistan and the Taliban takeover of much of the country, the future of Afghan politics remains uncertain.
Scott Neuman and Deepa Shivaram, NPR (August 31, 2021): With The Americans Gone, Afghanistan Enters Its Uncertain, Taliban-Led Future
https://twitter.com/ForeignPolicy/status/1432305166657728515
The Economist (August 28, 2021): Why Afghan officials have washed up in the United Arab Emirates
Ann Marlowe, The Bulwark (August 27, 2021): "Afghanistan Controlled by the Taliban Is Not My Country": Afghan mayors' stark choice: Cooperate with the Taliban or flee
Ritika Chopra, Indian Express (August 26, 2021): In hiding overseas, first female head of Afghanistan's poll panel rues: 20 years of progress lost
Middle East Elections Coming Up in 2021 and 2022
Morocco Legislative, Provincial, and Local Elections: September 8, 2021
Qatar Shura Council Elections: October 2, 2021
Iraq Parliamentary Elections: October 10, 2021
Jordan Local and Gubernatorial Elections: Fall 2021 (due)
Libya Presidential and Parliamentary Elections: December 24, 2021
Lebanon Parliamentary Elections: May 2022 (due)
Bahrain Parliamentary Elections: November 2022 (due)
Algeria Local Elections: November 2022 (due – earlier elections possible)
Egypt Local Elections: Due and discussed, but not scheduled
Oman Local Elections: Due, but postponed due to COVID-19
Palestinian Authority Presidential and Legislative Elections: Long overdue, postponed yet again, no date set
21votes does not necessarily agree with all of the opinions expressed in the linked articles; rather, our goal is to curate a wide range of voices. Furthermore, none of the individuals or organizations referenced have reviewed 21votes' content, and their inclusion should not be taken to imply that they endorse us in any way. More on our approach here.