December 3, 2021
A weekly review of key news and analysis of elections in Asia and the Indo-Pacific, usually posted on Fridays and occasionally updated throughout the week. For a full electoral calendar and interactive map, click here.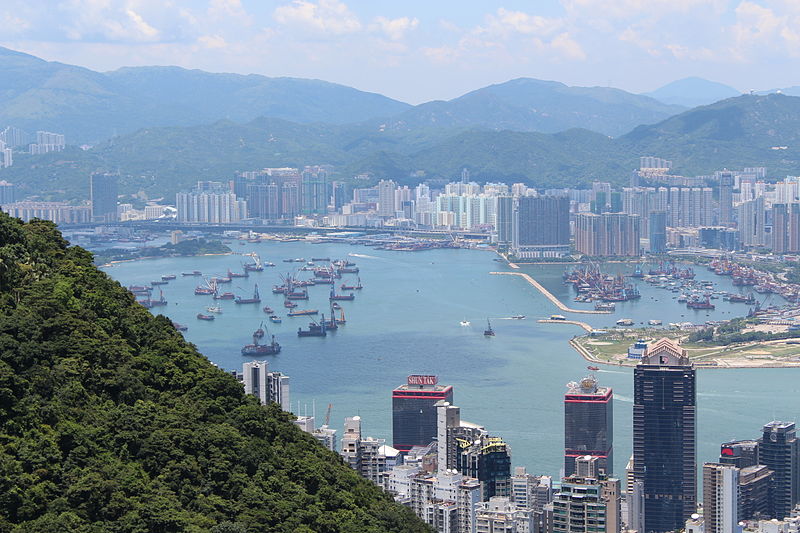 Hong Kong's iconic Victoria Harbour. Photo credit: Wikimedia/Deror_avi (CC BY-SA 3.0)
Upcoming Asia/Pacific Elections
Hong Kong Legislative Elections: December 19, 2021
Hong Kong is holding elections to the Legislative Council on December 19, 2021, after more than a year's delay. These elections are taking place in the context of Beijing's determination to gut Hong Kong's democracy. More
Reuters (December 3, 2021): Democracy activist Law urges Hong Kong voters to ignore Dec. 19 election
Jessie Lau and Shui-yin Sharon Yam, The Diplomat (December 1, 2021): 'Patriots Only': Hong Kong's New Election System in Action: Changes to Hong Kong's election system, as well as the overarching national security law, have all but killed any formal political opposition.
Selina Cheng, Hong Kong Free Press (November 30, 2021): Public, media barred from observing ballot counts at special Hong Kong-mainland border voting stations
Lu Xi, Radio Free Asia (November 29, 2021): Exiled former lawmaker calls for probe into London attacks on Hong Kong protesters: The attacks came after the group challenged an 'anti-racism' rally organized by supporters of Beijing.
Wall Street Journal (November 28, 2021): Hong Kong Says Vote—or Else: China fears a boycott of the sham vote it will hold next month.
Reuters (November 28, 2021): Hong Kong protest film wins best documentary at Chinese-language 'Oscars'
Natalie Wong, South China Morning Press (November 27, 2021): Hong Kong elections: only 3 Legislative Council candidates identify as 'pro democracy', demand universal suffrage in official poll statements
Bangladesh Partial Local Elections: January 5, 2022
Some of Bangladesh's towns hold local elections in November 2021, which the opposition is boycotting. Bangladesh last held general elections to the Jatiya Sangsad (parliament) in December 2018 amid political violence and harassment of the opposition. The next polls are due in December 2022 or early 2023. The Awami League (AL) has been in power since 2009 and is becoming increasingly authoritarian.
On the geopolitical front, Bangladesh has risen in importance in recent years in the midst of high economic growth. More
Mihar Sharma, Bloomberg (November 29, 2021): Biden's Democracy Summit Is a South Asian Diplomatic Flub: The U.S. may have caused major damage to its policy in the region by excluding some countries that are being courted by China.
Porimol Palma, Daily Star Bangladesh (November 28, 2021): Biden's Summit for Democracy: Bangladesh's exclusion bewildering
Daily Star Bangladesh (November 29, 2021): Eight killed in polls violence
Dhaka Tribune (November 27, 2021): Voting in fifth phase of Union Parishad elections on January 5
India, State Elections in Goa, Manipur, Punjab, Uttar Pradesh, and Uttarakhand: February/March 2022 (due)
Five Indian states are due to hold elections in early 2022. These elections will be a key test for the two biggest parties, PM Narendra Modi's Bharatiya Janata Party (BJP) and the main opposition Congress Party. Although there have been some concerns about Modi's increasing authoritarianism, India remains an important partner in combatting China's attempts to spread its political and economic influence around the world.
India's next general elections are due by May 2024.
Bibhudatta Pradhan and Archana Chaudhary, Bloomberg (December 3, 2021): Modi's Top Priorities With Two Years to Go Until Election Day
South Korea Presidential Election: March 9, 2022
South Korea holds its presidential election on March 9, 2021. Recently, the conservative opposition won special mayoral elections in Seoul and Busan by a landslide, just a year after President Moon Jae-in's center-left Democratic Party swept the legislature. Moreover, Moon's approval rating is tanking.
AP (November 28, 2021): Widow of South Korea's last military dictator issues apology over brutal rule
Philippines Presidential Election: May 9, 2022
Philippines holds a presidential election on May 9, 2022. In 2016, populist firebrand Rodrigo Duterte won the presidency, claiming to be an outsider. He has governed with an iron fist. Although he is banned from seeking a second term, critics fear that he will seek to consolidate illiberalism in the form of a handpicked successor. His daughter, Sara Duterte, will run for vice president as the running mate of Ferdinand "Bongbong" Marcos Jr., son of the notorious late former dictator.
Meanwhile, a broad coalition of opposition figures have formed 1Sambayan (One Nation) in the hopes of defeating Duterte's allies with a united front. Boxing star Manny Pacquiao, a former Duterte ally, had been discussed as a possible presidential candidate for 1Sambayan, but the alliance ultimately decided to endorse current vice president Leni Robredo.
While the Philippines lacks significant hard power, it is located in a geopolitically crucial area. The country has been a key U.S. ally since World War II, but Duterte has flirted with moves to bring the Philippines closer to China and away from the United States during his tenure in office. However, the country has ultimately kept the defense pact with the U.S. in tact.
Mong Palatino, The Diplomat (December 3, 2021): Why the Fight for the Philippines Vice Presidency Matters: Whoever wins the number two slot could end up playing a significant political role in the next administration.
Andreo Calonzo and Clarissa Batino, Bloomberg (December 2, 2021): Facebook Users Rewrite Marcos History in Race to Succeed Duterte: Marcos Jr.  holds a big lead in the race for the Philippine presidency when online disinformation is expected to ramp up due to covid curbs.
Reuters (December 2, 2021): Philippines activists push new petition seeking Marcos election ban
Walé Azeez, CNN Business (December 1, 2021): Google bans political ads ahead of elections in the Philippines
Ronald U. Mendoza, Imelda Deinla, and Jurel Yap, Lowy Institute's The Interpreter (December 1, 2021): Philippines: diagnosing the infodemic – Fake news is harder to spot than ever. Young voters need to get savvy before the country's 2022 election.
Aries Arugay, World Politics Review (November 30, 2021): A Duterte Family Drama Is Overshadowing the Philippines Presidential Election
Yen Nee Lee, CNBC (November 29, 2021): Philippine President Duterte will step down next year. Here are his potential successors
Australia Parliamentary Elections: May 2022 (due – snap elections possible)
Australia's federal parliamentary elections are due by 2022, but snap elections could happen. Meanwhile, several states hold elections in 2021. In the last general elections, in 2019, Prime Minister Scott Morrison's Liberal Party won in a surprise result, after trailing in pre-election polls.
Tensions with China are rising as Australia's federal government has cancelled several Belt and Road deals. More
Reuters (November 29, 2021): Australia looks set for May 2022 election as budget brought forward
Cambodia Local Elections: June 5, 2022 and Parliamentary Elections: July 2023 (due)
Cambodia is due to hold local elections in 2022 and general elections in 2023. Although Cambodia has held elections in the past that had some element of competition, the 2018 election – neither free nor fair – signified the closing of Cambodia's political space. They have been called "the death of democracy."
The main pro-democracy opposition, Cambodian National Rescue Party (CNRP), was dissolved and banned from fielding candidates, and its leader, Sam Rainsy, was sent into exile, so its supporters boycotted the polls, resulting in the ruling Cambodian People's Party (CPP) taking 58 out of 62 seats in parliament, and allowing Prime Minister Hun Sen to consolidate even more power while extending his three decades in power.
Al Jazeera (December 2, 2021): Hun Sen, Cambodian leader for 36 years, backs son to succeed him: Prime minister says he supports his 44-year-old son Hun Manet to take over leadership through an election.
Radio Free Asia (December 1, 2021): Cambodia's Kem Sokha denies outside pressure in party rift: Cambodia's ruling party says it's not involved, but welcomes conflict in the opposition.
Sebastian Strangio, The Diplomat (November 30, 2021): Cambodia Opposition Fractures as Bickering Breaks Into the Open: Kem Sokha has accused his longtime partner Sam Rainsy of using his name and image for personal political gain.
The Guardian (November 28, 2021): Prince Norodom Ranariddh, former Cambodian PM, dies aged 77: Leader of royalist Funcinpec party was overthrown as prime minister by Hun Sen, who has ruled country as a despot ever since
Maldives Presidential Election: September 2023 (due)
Maldives is due to hold a presidential election in September 2023. The idyllic archipelago was under a brutal dictatorship for decades, but began a remarkable transition to democracy in 2008. The road to democracy has been somewhat rocky, but Maldivian democrats persevere.
On May 7, a bomb blast hospitalized former president Mohamed Nasheed, one of the main architects of democracy in Maldives. The country, in the strategically-important Indian Ocean, has been part of geopolitical competition between India and the democratic world on the one hand and China on the other hand. More
Mohamed Sharuhaan, AP (November 30, 2021): Maldives' top court annuls prison term for ex-president
AFP (November 30, 2021): Convicted Maldives ex-leader released from house arrest
Malaysia, Early General Elections: To be called, following Melaka State Snap Elections: November 20, 2021
Malaysia will likely call early general elections once the COVID-19 pandemic is over. Meanwhile, several of Malaysia's states are due to hold elections in the next year. Melaka (or Malacca – located on the Strait of Malacca, a key strategic choke point) held snap elections on November 20, which delivered a victory for the ruling coalition. In addition, Sarawak, on the island of Borneo, is due to hold state elections very shortly after the federal government lifts the COVID-19 state of emergency. In Malaysia's federal system, state governments have significant powers to make laws for their own states, and the Borneo states of Sarawak and Sabah have even more power than the 11 peninsular Malaysian states.
The country's politics have been turbulent since the historic defeat of UMNO – which had ruled since 1957 – in the 2018 elections. UMNO is back in power but hanging on by a thread as Ismail Sabri Yaakob, from UMNO, became prime minister in August 2021, following protests and general chaos. He replaced Muhyiddin Yassin, who was only in office for 17 months (the shortest-ever tenure of a Malaysian prime minister). More
Kamles Kumar, Al Jazeera (November 2, 2021): Is it time for Anwar Ibrahim to step aside? Malaysia's opposition leader faces calls within the coalition and supporters to make way for fresh faces.
Nepal General Elections: Early 2023 (due)
Nepal had planned to hold snap elections in November 2021, following a protracted political crisis, but now the snap elections have been cancelled, and the current thinking is that the parliamentary elections will take place when they are due in 2023. For background: in December 2020, Nepal's prime minister decided to dissolve parliament and call for new elections. However, on February 23, the Supreme Court overturned the decision, cancelling the snap elections. The government subsequently lost a confidence vote, sparking snap polls. However, the courts reversed the decision.
Nepal sits in the strategically-important Himalayas, and is a focus of competition between India and China. Although former prime minister KP Sharma Oli brought Nepal closer to China, his replacement, Sher Bahadur Deuba, who assumed office in July 2021, is seen as favoring closer ties to India. More
Bhadra Sharma, New York Times (November 30, 2021): Nepal's embattled chief justice tests positive for the virus, amid broad political disarray.
Past Asia/Pacific Elections
Thailand Tambon Administrative Organization (TAO) Elections: November 28, 2021
Thai officials have said they will schedule elections soon for various types of local elections (such as Bangkok city council) and potentially a constitutional referendum. Most recently: Tambon (township) Administrative Organization (TAO) elections took place on November 28. These follow provincial elections that took place in December 2020 and municipal elections in March 2021.
These elections are taking place in the context of unprecedented protests against the monarchy, and calls for unprecedented types of reforms. These protests have been going on for months. More
Thaiger (November 30, 2021): Bomb attack damages vehicles carrying ballot boxes from local election in Yala
Democracy in the Region
Al Jazeera (December 2, 2021): 'Dramatic rise' in reprisals against opposition MPs in ASEAN
Shannon Tiezzi, The Diplomat (December 1, 2021): Which Asia-Pacific Countries Were (and Weren't) Invited to the US Summit for Democracy? The guest list underscores the region's ambivalent relationship with democracy and political freedom.
Asia/Pacific Elections Coming Up in 2021 and 2022
New Caledonia Independence Referendum: December 12, 2021
Taiwan Referendum: December 18, 2021
Hong Kong Legislative Council Elections: December 19, 2021
Bhutan Local Elections: December 22, 2021
Timor-Leste Municipal Elections: 2021 (due)
Sri Lanka Early Provincial Elections: Late 2021 (proposed)
Nepal Parliamentary Elections: January 2022 (due)
India, State Elections in Goa, Manipur, Punjab, Uttar Pradesh, and Uttarakhand: February/March 2022 (due)
South Korea Presidential Election: March 9, 2022
Timor-Leste Presidential Election: March 2022 (due)
Nepal Local Elections: April or May 2022 (due)
Philippines Presidential and Legislative Elections: May 9, 2022
Australia Parliamentary Elections: May 2022 (due – snap elections possible)
Papua New Guinea Parliamentary Elections: June 2022 (due)
Cambodia Local Elections: June 5, 2022
Nauru Parliamentary Elections: August 2022 (due)
India, State Elections in Himachal Pradesh: October 2022 (due)
Fiji Parliamentary Elections: November 2022 (due)
Taiwan Local Elections: November 2022 (due)
India, State Elections in Gujarat: December 2022 (due)
21votes does not necessarily agree with all of the opinions expressed in the linked articles; rather, our goal is to curate a wide range of voices. Furthermore, none of the individuals or organizations referenced have reviewed 21votes' content. That is to say, their inclusion should not be taken to imply that they endorse us in any way. More on our approach here.