July 31, 2021 (Updated August 2, 2021)
A weekly review of news and analysis of elections in the Americas, usually posted on Saturdays and occasionally updated throughout the week. For a full electoral calendar and interactive map, click here.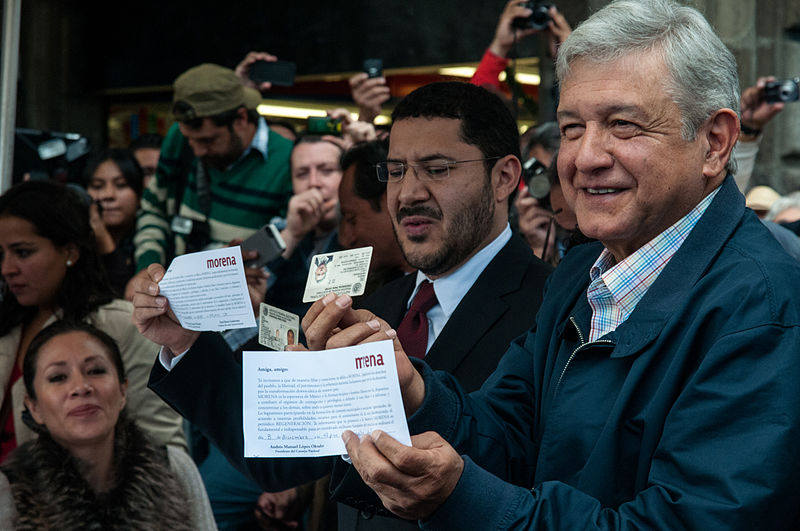 Mexican president Andrés Manuél López Obrador (AMLO) in 2013. AMLO backed Mexico's August 1 referendum that ultimately only garnered 7 percent turnout. Photo credit: Wikimedia/Eneas De Troya (CC BY 2.0)
Upcoming Americas Elections
Mexico Referendum: August 1, 2021
Mexico held a referendum on prosecuting former presidents on August 1, although many critics have dismissed it as pointless political theatre. Turnout was less than 7 percent, meaning the results are not binding.
This follows high-stakes midterm elections, which were a key test for left-wing populist firebrand Andrés Manuel López Obrador (frequently called AMLO) ahead of the 2024 presidential election, and he largely lost – his MORENA party did not get its majority in the legislature, and although MORENA won most of the state governorships, it lost control of most areas of Mexico City. AMLO, who has been governing in an increasingly authoritarian manner, wants to transform Mexico by jettisoning the market economy, but these election results will make it harder for him to do that.
Meanwhile, political violence is on the rise, with at least 88 politicians killed and hundreds of candidates targeted. More
Carlos Santamaria, GZERO (August 2, 2021): Mexico's corruption referendum eye-roll
Juan Montes, Wall Street Journal (August 2, 2021): Mexico Referendum on Former Leaders Has Low Turnout
#Mexico: "By organizing a referendum with an ambiguous, unclear question, #AMLO hopes to garner political points for promoting popular participation while seeking political cover for his refusal to truly investigate Peña Nieto and the military's top ranks."https://t.co/3op2oxLA9Q

— Ryan Berg, PhD (@RyanBergPhD) August 1, 2021
Kevin Sieff and Alejandra Ibarra Chaoul, Washington Post (July 31, 2021): Mexicans will vote on whether to prosecute former officials. Is it transitional justice or political theater?
Denise Dresser, Americas Quarterly (July 28, 2021): Mexico's Farcical Referendum
Haiti Parliamentary and Presidential Elections: September 26, 2021 (delays possible)
Haiti's political crisis went into overdrive on July 7 with the assassination of President Jovenel Moïse. Moïse had been governing by decree for over a year and stood accused by many of attempting to consolidate power through a controversial constitutional change (Moïse ultimately postponed the referendum.
Allegations of fraud followed Haiti's presidential 2015 election, sparking a political crisis that remains ongoing. Some have called for the upcoming elections to be delayed.
Natalie Musumeci and John Haltiwanger, Business Insider (July 30, 2021): Haitian first lady Martine Moïse says she's considering running for president after her husband was assassinated
Reuters- Already struggling with political paralysis, economic malaise and gang-fueled violence, Haiti new Prime Minister Ariel Henry also under pressure to hold elections as swiftly as possible https://t.co/nYsILXBNXr

— Marianna Párraga (@mariannaparraga) July 29, 2021
AP (July 28, 2021): Haiti's New Pm Pledges To Hold Elections Soon After Slaying
Jim Wyss, Bloomberg (July 27, 2021): How a Power Struggle in Haiti Preceded President's Assassination
Editorial Board, Washington Post (July 27, 2021): Haiti needs elections — and outside forces to make them safe
Nicaragua General Elections: November 7, 2021
Nicaragua holds general elections on November 7, 2021. President Daniel Ortega, who has been in power for 20 years, will seek another term, and under his rule, Nicaragua has become increasingly authoritarian, with rule of law and fundamental freedoms under assault.
Several opposition candidates have been arrested, including Cristiana Chamorro, seen by many as the opposition's best chance of ousting Ortega (in fact, her mother, Violeta Chamorro, beat Ortega in the 1990 election, becoming Nicaragua's first – and to date only – female president and ending 11 years of Sandinista rule).
AP (July 29, 2021): With Turmoil at Home, More Nicaraguans Flee to the US
Al Jazeera (July 28, 2021): Nicaragua opposition names presidential ticket to take on Ortega
Argentina Midterm Legislative Elections: November 14, 2021 (postponed from October)
Argentina is due to hold midterm legislative elections on November 14, along with a few sets of provincial elections on various dates. Although most of the country's 23 provinces hold their elections at the same time as presidential elections (which last took place in 2019 and are due again in 2023), a few are due to hold elections this year.
Argentina's 2021 elections – both provincial and legislative – are happening in the context of an economic crisis, which the leftist government and COVID-19 have exacerbated. In the 2019 presidential election, Peronist Alberto Fernández defeated center-right incumbent Mauricio Macri (the first defeat for an Argentine incumbent president), running on a ticket with populist firebrand Cristina Fernández de Kirchner, who served as president from 2007 to 2015. Kirchner herself did not run for president because she was facing criminal charges related to misconduct during her time in office. Frente de Todos, the party formed by Kirchner and Fernández, currently holds a majority in the Senate and is the biggest party in the Chamber of Deputies, the lower house.
Jorge Fontevecchia, Buenos Aires Times (July 30, 2021): Miguel Ángel Pichetto: 'Argentina's true debate is between capitalism and ideologies glorifying poverty'
Patrick Gillespie, Bloomberg (July 28, 2021): Argentine Government Speeds Up Money Printing Ahead of Election
Chile Presidential and Legislative Elections: November 21, 2021
Chile holds presidential and legislative elections in November, following presidential primaries on July 18 that produced surprise results ). These elections follow the May 2021 local elections, and importantly, elections to the Constitutional Assembly. Incumbent president Sebastian Pinera, from the center-right Chile Vamos coalition, is not running for another term. He currently has low approval ratings. Moreover, the conservatives failed to secure even one third of the Constitutional Assembly. 
The results of the July 18 presidential primaries indicate that voters seem to want a return to moderation. Center-right Sebastian Sichel prevailed over candidates who were both more established and more to the right. Similarly, on the left, communist Daniel Jadue, a darling of the international left-wing commentariat, lost to Gabriel Boric, a socialist former student leader. A number of other candidates could also enter the race, leaving the result far from clear.
These elections are taking place in the context of a year of protests and riots, including violent looting, arson, and vandalism. Furthermore, an intense debate over the new constitution continues. More
Benedict Mander, Financial Times (August 2, 2021): Chile's social upheaval leaves presidential race wide open: Newly elected left-leaning constituent assembly holds huge sway in fragmented contest
Venezuela Regional and Local Elections: November 21, 2021
Venezuela has scheduled regional and local elections for November 21, 2021. In December 2020, Venezuela held legislative elections despite members of the opposition and international community calling for a delay in order to ensure credible, fair elections. Ultimately, most of the opposition boycotted; however, opposition parties appear willing to participate in the elections this year.
Tim Padgett, WLRN Miami (July 27, 2021): Maduro Wants Venezuela Talks With Opposition In Mexico Next Month
Brazil Presidential and Legislative Elections: October 2, 2022
Brazil holds general elections in October 2022. Jair Bolsonaro, the right-wing populist firebrand president, is up for re-election. Former president Lula da Silva, himself a populist firebrand of the left-wing variety, will run against him. The country remains deeply polarized between right and left, although some are searching for a third candidate to challenge both Bolsonaro and Lula. More
Reuters (July 29, 2021): Brazil's Bolsonaro escalates rhetoric over electoral fraud
Bryan Harris, Financial Times (July 28, 2021): Vaccine scandals lay bare Brazil's enduring graft problem: Bolsonaro's popularity is falling as corruption allegations threaten to swamp his administration
Canada Parliamentary Elections: By October 16, 2023 (snap elections possible)
Canada is not due to hold federal elections until 2023, but snap elections could happen if the opposition manages to oust PM Justin Trudeau's Liberal minority government in a vote of no confidence. Meanwhile, a number of provinces are holding elections this year.
Steve Scherer, Reuters (July 28, 2021): Canada's Trudeau to gamble on vaccinations, economic rebound in likely September snap vote
Cuba Protests: July 2021
Cuba is run by a repressive communist regime. Although the country technically holds elections (the next parliamentary elections are due in 2023), they are neither free nor fair, and have been rigged to as to be unable to result in a change in government. However, in July 2021, Cubans began protesting in numbers not seen in over 30 years, calling for freedom.
Jorge Felipe-Gonzalez, The Atlantic (July 31, 2021): I Watched Cuba Crumble From the Inside
Past Americas Elections
Saint Lucia Parliamentary Elections: July 26, 2021
Saint Lucia, Saint Lucia, a democracy with competitive elections and regular transfers of power, held general elections on July 26, after a slight delay due to COVID-19. The social democratic Saint Lucia Labour Party defeated the incumbent center-right United Workers Party and will form the next government, ousting former Prime Minister Allen Chastanet. More
Saint Kitts and Nevis Observer (July 28, 2021): St. Lucia Labour Party Seals Big Election Win
The #Commonwealth Observer Group deployed to #SaintLucia has released an interim statement saying the results of the 2021 General Election 'conclusively reflect the will of the people.'

Read the full story and the statement 👉: https://t.co/ESi0ay7HUK#CommonwealthElections 🗳

— The Commonwealth (@commonwealthsec) July 28, 2021
Guardian Trinidad and Tobago (July 27, 2021): CARICOM Observer Mission commends free and fair Saint Lucia election poll despite pandemic
Peru Presidential Runoff: June 6, 2021
Peru held general elections for April 11, 2021. These elections are coming on the heels of snap legislative elections that took place on January 26, 2020, and in the context of political turmoil – including the impeachment of President Martín Vizcarra and the subsequent "week of three presidents" – and an economic crisis brought on by COVID-19.
The presidential runoff pitted self-described Marxist Pedro Castillo against right-wing populist Keiko Fujimori, daughter of former president Alberto Fujimori, who is currently in prison for various crimes (Keiko is also currently facing criminal charges). Castillo came out of nowhere to win the first round. However, none of the 18 candidates received more votes than the number of blank ballots cast – a sign of voters' deep frustration.
Castillo won the runoff by a margin of less than one percent. Fujimori is alleging fraud, but international observers largely dismissed that allegation. More
Andrea Moncada, Americas Quarterly (August 2, 2021): Is Pedro Castillo's Presidency Already Doomed?
Al Jazeera (August 1, 2021): Peru protesters rally against Pedro Castillo's new government: Protesters decry the new president's decision to appoint hardliner Guido Bellido as prime minister.
Marco Aquino, Reuters (July 31, 2021): Peru's Castillo names moderate leftist as finance minister in olive branch to markets
The Economist (July 31, 2021): Peru's left-wing new president pushes for a new constitution: But it remains unclear how radical Pedro Castillo can be
Michael Stott, Financial Times (July 30, 2021): Peru's new president has plunged it into instant political crisis: Pedro Castillo's nomination of leftwing radicals for cabinet posts shows he is no mood to compromise
Guatemala General Elections: June 16 and August 11, 2019
Guatemala held general elections in 2019. These elections took place in a climate of chaos and uncertainty. Incumbent president Jimmy Morales, a comedian and political outsider, ran on an anti-corruption platform in 2015 but since being elected has repeatedly attacked the UN's anti-corruption body CICIG after it started investigating his family members.
In May 2019, two out of the three leading presidential candidates were disqualified by the Constitutional Court: Thelma Aldana, a former attorney general who jailed hundreds for corruption, and Zury Rios, daughter of the former dictator. The first round did not produce a winner. Left-wing former first lady Sandra Torres faces conservative former prison director Alejandro Giammattei in a runoff on August 18. In the congressional elections, Torres' left-wing National Unity of Hope (UNE) party appears to have won the most seats, but some face a runoff. Twenty percent of the incumbents are under investigation for corruption, and 92 percent of Guatemalans do not trust their legislature.
Reuters (July 30, 2021): In Guatemala thousands protest, demand president's resignation: Protesters lit fires and blocked roads to demand the resignation of President Alejandro Giammattei, after the firing of a well-known anti-corruption prosecutor
Global Americans (July 30, 2021): In blow to anti-corruption efforts in Guatemala, prosecutor Juan Francisco Sandoval removed by Attorney General
Americas Elections Coming Up in 2021 and 2022
Saint Lucia Parliamentary Elections: July 26, 2021
Argentina Salta Provincial Elections: August 15, 2021 (postponed from July 4, 2021)
Haiti Presidential and Legislative Elections, plus delayed constitutional referendum: September 26, 2021
Paraguay Municipal Elections: October 10, 2021
Nicaragua Presidential and Legislative Elections: November 7, 2021
Argentina Midterm Legislative Elections: November 14, 2021
Chile Presidential and Legislative Elections: November 21, 2021
Venezuela Regional and Local Elections: November 21, 2021
Honduras Presidential and Legislative Elections: November 28, 2021
Guyana Local Elections: Due in 2021
Costa Rica Presidential and Legislative Elections: February 6, 2022
Colombia Legislative Elections: March 13, 2022
Colombia Presidential Election: May 29, 2022
Bahamas Parliamentary Elections: May 2022 (due – snap elections possible)
Brazil Presidential and Legislative Elections: October 2, 2022
21votes does not necessarily agree with all of the opinions expressed in the linked articles; rather, our goal is to curate a wide range of voices. Furthermore, none of the individuals or organizations referenced have reviewed 21votes' content. That is to say, their inclusion should not be taken to imply that they endorse us in any way. More on our approach here.