December 16, 2021
A weekly review of news and analysis of elections in Eurasia, usually posted on Thursdays and occasionally updated throughout the week. For a full electoral calendar and interactive map, click here.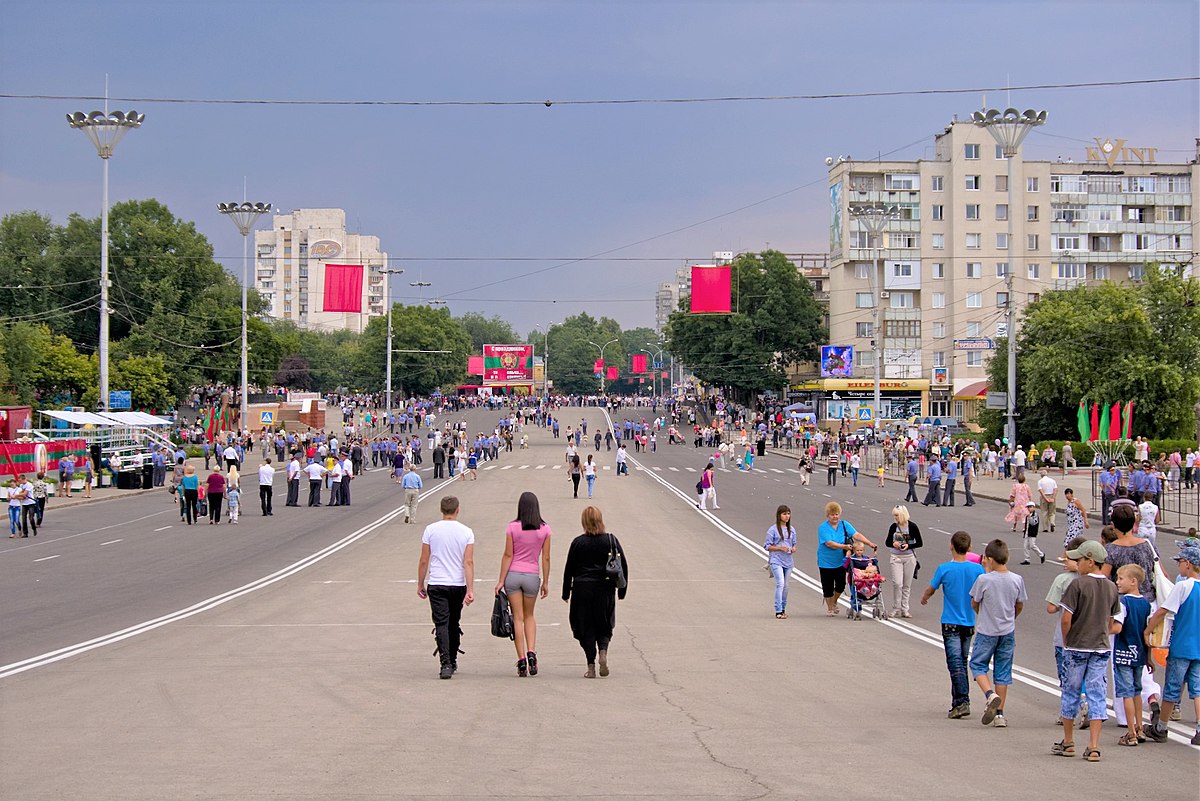 A street in Tiraspol, the capital of Moldova's Transnistria region, whose Russian-backed separatist leaders held a de facto presidential election on December 12. Photo credit: Wikimedia/Донор (CC BY-SA 3.0)
Upcoming Eurasia Elections
Belarus Constitutional Referendum: February 2022 (proposed)
Belarus's dictator, Alexander Lukashenko, has announced plans to hold a constitutional referendum in February 2022. Belarus's elections and political processes are neither free nor fair.
The country las held a presidential election on August 9, 2020. In a vote widely deemed not free and not fair, Lukashenko declared victory. However, the opposition declared that Svetlana Tikhanovskaya had in fact won. Hundreds of thousands of Belarusians have taken to the streets in protest to demand free and fair elections, even in the face of assault and arrest by security forces. Protests and political defiance continue. More
AFP (December 14, 2021): Belarus: Opposition leader Tikhanovsky jailed for 18 years: Tikhanovsky's wife, the self-exiled Belarus democracy icon Sviatlana Tsikhanouskaya, denounced the verdict as 'revenge'.
RFE/RL (December 14, 2021): Veteran Chief Of Belarusian Election Commission Replaced Ahead Of Referendum
Voice of America (December 2, 2021): US, EU, UK and Canada Announce New Belarus Sanctions
Matthias Williams, Reuters (December 2, 2021): Belarusian KGB set up fake social media accounts to inflame migrant crisis, Meta says
Past Eurasia Elections
Moldova, De Facto Presidential Election in Transistria: December 12, 2021
Russia-backed breakaway authorities in Moldova's Transnistria region held a so-called presidential election on December 12, 2021. Current leader Vadim Krasnoselsky won the contest. Transnistria declared independence in 1990 and Moldova subsequently lost control of the region, and there was a war in 1992.
Russia instigated and continues to perpetuate a frozen conflict in Transnistria, where 1,400 Russian troops are stationed – an obstacle to Moldova's integration into Euro-Atlantic structures. Additionally, Transnistria's rampant organized crime and corruption threaten Moldova's stability. Russia also stokes separatism in Gagauzia, a Turkic-speaking region of Moldova.
Russia has broadly stepped up its harassment of Moldova following the election of pro-Europe Maia Sandu to the presidency in 2020 and the victory of pro-Europe political parties in the July 2021 parliamentary elections.
Madalin Necsutu, Balkan Insight (December 12, 2021): Moldova's Breakaway Transnistria Re-Elects Leader in Dubious Poll: The Russian-backed breakaway region re-elected its existing leader, Vadim Krasnoselsky, in a poll that few countries – except Russia – bothered to observe and which Moldova declared illegitimate.
RFE/RL (December 12, 2021): Breakaway Authorities Stage Vote In Moldova's Transdniester Region
Kyrgyzstan Parliamentary Elections Take 2: November 28, 2021
Kyrgyzstan held parliamentary elections on November 28, 2021 – a re-run of the parliamentary elections that took place in October 2020. Those elections and allegations of fraud led to political turmoil, followed by a snap presidential election in January 2021 and a constitutional referendum (alongside local elections) in April 2021. The new constitution, which passed, grants the president vastly expanded powers. Its critics have dubbed it the "Khanstitution." The political climate was tense heading into the October 2020 parliamentary elections. It subsequently exploded following said elections. More
Catherine Putz, The Diplomat (December 7, 2021): As the Dust Settles from Kyrgyzstan's Election, What Next? As Kyrgyzstan's new parliament takes shape, Japarov has the government he asked for. Now for the hard part: governing.
Bruce Pannier, RFE/RL (December 2, 2021): Assault On Kyrgyz Opposition Leader Adds Fuel To Complaints About Election Results
Uzbekistan Presidential Election: October 24, 2021
Uzbekistan held a presidential election on October 24, 2021. Elections in Uzbekistan are neither free nor fair, and political opposition is not able to operate freely in the country. Although some had hoped that President Shavkat Mirziyoyev would face a serious challenger this year, that did not happen. Instead, would-be challengers were either denied ballot access or dropped out. More
Sarvar Khalikov, Mykola Volkivskyi, Artem Oliinyk, and Prof. dr. hab. Joanna Cygler, New Eastern Europe (December 16, 2021): Is Uzbekistan's re-elected President Mirziyoyev the key to sustainable development in Central Asia, including Afghanistan?
Catherine Putz, The Diplomat (December 7, 2021): Is It Time for the US to Press Uzbekistan on Human Rights? A group of U.S. Senators have asked the Biden administration to center human rights in the upcoming Strategic Partnership Dialogue with Uzbekistan.
Georgia Local Election Runoffs: October 30, 2021
Georgia held local elections on October 2, 2021 in a tense political climate, exacerbated by the arrest of former president Mikheil Saakashvili upon his return to the country on the eve of the vote. Runoffs will take place on October 30, including for the important role of mayor of Tbilisi, which the ruling Georgian Dream party failed to win in the first round. Ultimately, Georgian Dream did win the second round amid criticism from the opposition. 
A recent uptick in violence against the LGBT community and journalists, perpetrated by far-right and pro-Kremlin forces, has fueled the wider debate about where Georgia is going, both culturally and geopolitically. More
Reuters (December 12, 2021): Georgia's ex-president Saakashvili needs treatment abroad, doctor says
Agenda.ge (December 2, 2021): US Ambassador Degnan: rejected electoral bill 'risks the tyranny of the majority'
Kazakhstan Legislative Elections: January 10, 2021
Kazakhstan held legislative elections for January 10, 2021. The country's elections take place in the context of an authoritarian system in which critics of the government face harassment and arrest. As such, no genuine opposition has representation in the legislature. More
RFE/RL (December 15, 2021): No Holiday: Independence Day In Kazakhstan Means Jail For Critics
Eurasia Elections Coming Up in 2022 and 2023
Belarus Constitutional Referendum: By February 2022 (proposed)
Russia Regional Elections (some regions): September 2022 (due)
Turkmenistan Parliamentary and Local Elections: March 2023 (due)
Moldova Local Elections: October 2023 (due)
Ukraine Parliamentary Elections: By October 29, 2023 (due)
21votes does not necessarily agree with all of the opinions expressed in the linked articles; rather, our goal is to curate a wide range of voices. Furthermore, none of the individuals or organizations referenced have reviewed 21votes' content. That is to say, their inclusion should not be taken to imply that they endorse us in any way. More on our approach here.