November 15, 2021
A weekly review of news and analysis of elections in Africa, usually posted on Mondays and occasionally updated throughout the week. For a full electoral calendar and interactive map, click here.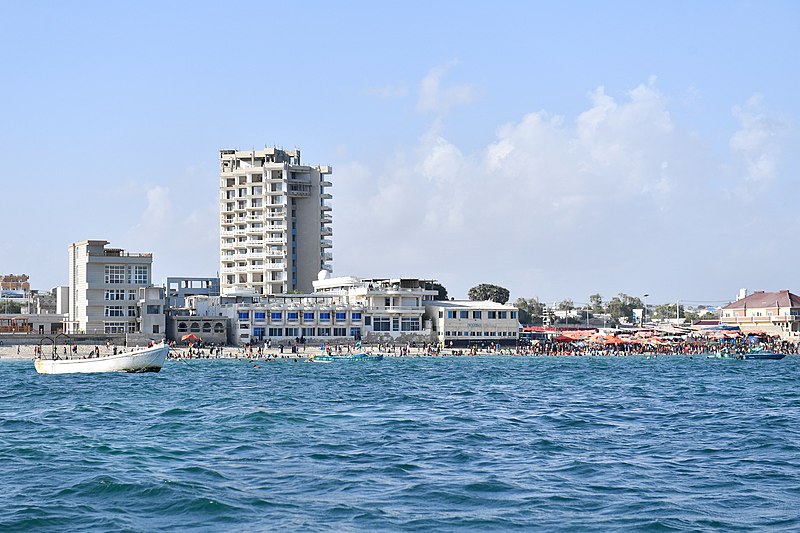 Lido Beach in Mogadishu, Somalia, as seen from the water. Photo credit: Wikimedia/AMISOM (CC0 1.0)
Upcoming Africa Elections
Somalia, Indirect Legislative Elections: Due, Indirect Presidential Election: February 8, 2022 (tentative – preceded by indirect legislative elections), following Direct Local Elections in Puntland: October 25, 2021
Somalia does not hold direct elections, but rather holds indirect elections in a clan-based system. Currently, an indirect presidential election is planned for October 10, delayed from February 8, 2021. The term of President Mohamed "Farmaajo" has expired, leaving Somalia in a political and constitutional crisis. In April 2021, Farmaajo sought to extend his term for two years, but parliament voted to reject the extension.
While the United States and the EU threatened sanctions, some analysts believed that the delay could pave the way for direct elections. However, critics dismiss this idea as a ruse to justify Farmaajo's extension of his term. The parties reached a deal to hold the elections on October 10, 2021, but this has been pushed to February 8, 2022. Additional delays are possible.
Somalia's strategic location means that instability has impact beyond its borders. More
Garowe Online (November 14, 2021): US urges Somali leaders to conclude Lower House elections before 2022
Dalsan Radio (November 12, 2021): Somalia: Long Delayed Parliamentary Elections to Kick Off Next Week
Gambia Presidential Election: December 4, 2021
Gambia is due to hold its first presidential election since it began its remarkable transition to democracy in 2016, when citizens removed dictator Yahya Jammeh – who had come to power in a coup and ruled for 22 years – peacefully, via the ballot box. In a surprising election result, opposition candidate Adama Barrow won the presidency with the backing of a coalition of seven opposition parties. However, the process of establishing democracy and recovering from Jammeh's brutal dictatorship has not been easy.
In a shock move, Barrow announced an alliance with Jammeh ahead of December's election. More
#Elections in #Gambia: The seat-warmer, the forever runner-up, and the return of #Jammeh?

An overview of the upcoming vote by @EromoEgbejule. https://t.co/CuKO2tPCRe

— African Arguments (@africaarguments) November 16, 2021
Eromo Egbejule, Al Jazeera (November 10, 2021): The Gambia elections: Meet the men running for president: Incumbent President Adama Barrow will face five challengers in the December 4 polls.
Jeiune Afrique (November 9, 2021): Gambia: Barrow and 5 others confirmed to run in upcoming December polls
Mali Presidential and Legislative Elections: February 27, 2022 (following two coups – delays highly likely)
Mali has set presidential and legislative elections for February 27, 2022, following the August 2020 coup. In the coup, soldiers removed President Ibrahim Boubacar Keïta, dissolved parliament (which had just been elected in April, in elections marred by fraud and intimidation) and established a transitional government. Before that, there will be a constitutional referendum on October 31, 2021 and local and regional elections on December 26.
On May 25, Mali had another coup, but leaders have stated that the elections will remain on the calendar for 2022. However, the situation remains fluid. Most recently, the government has said the elections would be delayed.
AP (November 15, 2021): EU eyes sanctions in Mali, and against Russian mercenaries
In Moscow Mali's FM hints at delaying elections again saying "Out of the 19 regions in Mali only 5 are in a position to hold votes' as security situation continues to deteriorate https://t.co/r4qf6HqEIN

— Nicolas Haque (@nicolashaque) November 11, 2021
David Rich, France24 (November 8, 2021 – in French): Mali: with its sanctions, ECOWAS wants to push for the holding of elections "without punishing the people"
Guinea Elections: TBD, following coup
On September 5, 2021, Guinea's president, Alpha Condé, fell in a military coup. Guinea's political future remains uncertain, but regional and international bodies, as well as Guinean civil society and political groups, have urged elections.
Condé was re-elected in October 2020 amid violence. He sought and won a controversial third term, and for the third time, faced off against opposition leader Cellou Dalein Diallo. Both candidates claimed they won, but election officials declared Condé the winner. However, Diallo challenged the results, alleging fraud and prompting street protests leading to at least 10 deaths. The government arrested a number of opposition members following the election. More
Alain Foka, France24 (November 15, 2021 – interview): Guinean transitional president Mamady Doumbouya: 'We want to give power back to Guineans'
APA (November 8, 2021): ECOWAS urges Guinea junta to submit election agenda
Nigeria, Several state elections in 2022, and general elections in 2023 (and preceded by local elections in various states)
Nigeria, Africa's most populous country, holds general elections in February 2023, but some states are due to hold elections before that. Most recently, Anambra held its gubernatorial election on November 6.
In addition, potential 2023 candidates have already begun jockeying for position. Since the return to civilian rule, vote-rigging and violence have plagued elections. While the 2015 polls – which handed the opposition its first-ever victory – were considered credible, international and Nigerian observers found that the 2019 polls fell short. The country is in the midst of several security crises.
2023 Elections
Akin Irede, The Africa Report (November 14, 2021): Nigeria 2023: How proposed law pushes Tinubu closer to presidency: Supporters of Bola Tinubu, the All Progressives Congress chieftain, are rejoicing over the amendment of the Electoral Act, which mandates all political parties to pick their candidates through direct primaries
Anambra Gubernatorial Election
Does the Anambra elections make an Igbo presidency a vanishing prospect? #Nigeria https://t.co/mbGAkaD9cJ

— The Africa Report (@TheAfricaReport) November 15, 2021
William Clowes, Bloomberg (November 10, 2021): Ex-Central Bank Governor Wins Nigeria Governorship Election
AFP (November 10, 2021): Incumbent party wins key Nigeria state election
Eswatini Parliamentary Elections: August 2023 (due)
Eswatini, formerly known as Swaziland, is an absolute monarchy. The country does hold parliamentary elections, but the parliament does not actually have much power, and the elections are tightly controlled, without much choice for voters.
On June 20, 2021, a series of protests calling for democratic reform began. Protests continue.
Marcel Plichta, World Politics Review (November 11, 2021): Eswatini's Pro-Democracy Movement Isn't Going Away
Democratic Republic of the Congo General Elections: December 2023 (due)
The DRC is due to hold general elections in 2023. The December 2018 presidential and legislative elections, which took place after multiple delays, were mired in controversy and dispute. The election commission declared opposition leader Félix Tshisekedi the winner of the presidential poll, but the Catholic Church, which deployed 40,000 election observers and is a highly trusted institution in the country, said that their data indicated a victory for another opposition leader, Martin Fayulu.
When Kabila's chosen successor, Emmanuel Ramazani Shadary, was polling too poorly for Kabila to credibly rig the election for him, Kabila cut a deal with Tshisekedi.
The legislative elections – also highly disputed – produced a majority for Kabila's coalition. Major opposition figures Moïse Katumbi and Jean-Pierre Bemba were barred from the polls and spent the election cycle outside the country, but both have returned.
Al Jazeera (November 13, 2021): Thousands rally in DRC capital against electoral commission pick: Protesters in Kinshasa reject last month's appointment of a new poll body head by President Felix Tshisekedi.
Sudan General Elections: By 2024 (due – unclear following coup)
Sudan plans to hold general elections by 2024, the culmination of a five-year transition to democracy that began with the July 2019 removal of dictator Omar al-Bashir following several months of protests. Al-Bashir was removed in a military coup, and a junta ruled briefly, but entered into an agreement with the Forces of Freedom and Change (FFC), a wide-ranging coalition of opposition groups, to transition the country to democracy. However, numerous challenges remain.
Yassir Abdallah, Bethlehem Feleke and Maija Ehlinger, CNN (November 14, 2021): Six killed during protests in Sudan as Al Jazeera bureau chief is arrested
Khalid Abdelaziz, Reuters (November 12, 2021): Coup leader pushes Sudan off post-Bashir path to democracy
Fay Abuelgasim and Noha Elhennawy, AP (November 11, 2021): Sudanese general tightens grip on power, 2 weeks after coup
Africanews with AFP (November 8, 2021): Sudan coup chief says he won't seek office after 2023 vote
Past Africa Elections
South Africa Local Elections: November 1, 2021
South Africa held local elections on November 1, 2021. Voters elected councils for all municipalities in each of the country's nine provinces. The elections took place in the context of unrest following the imprisonment of former president Jacob Zuma for corruption. In that vein, the ruling African National Congress had its worst election result since the end of apartheid, gaining less than 50 percent of the vote. More
Stratfor (November 15, 2021): The ANC's Record Electoral Defeat Bodes Ill for South Africa's Economic Stability
Coups on the Rise
Neil Munshi and Andres Schipani, Financial Times (November 14, 2021): 'Failure of democracy': why are coups on the rise in Africa? As dissatisfaction with democratically elected leaders intensifies, militaries are extending their grip
Africa Elections Coming Up in 2021 and 2022
Somalia, Indirect Legislative Elections: Ongoing
Gambia Presidential Election: December 4, 2021
Angola Local Elections: Overdue, might possibly happen in 2021
Senegal Local Elections: January 23, 2021
Somalia Indirect Presidential and Legislative Elections: February 8, 2022 (Tentative, following numerous delays – additional delays possible)
Mali Presidential and Legislative Elections: February 27, 2022 (following coup – delays possible)
Gambia Parliamentary Elections: April 2022 (due)
Burkina Faso Local Elections: May 2022 (due)
Lesotho Parliamentary Elections: June 2022 (due)
Republic of Congo Legislative Elections: July 2022 (due)
Senegal Legislative Elections: July 2022 (due)
Kenya Presidential and Legislative Elections: August 9, 2022
Angola Legislative Elections: August 2022 (due)
Central African Republic Local Elections: September 2022 (due – delays possible)
Sao Tome and Principe Parliamentary Elections: October 2022 (due)
Equatorial Guinea Parliamentary Elections: November 2022 (due)
21votes does not necessarily agree with all of the opinions expressed in the linked articles; rather, our goal is to curate a wide range of voices. Furthermore, none of the individuals or organizations referenced have reviewed 21votes' content. That is to say, their inclusion should not be taken to imply that they endorse us in any way. More on our approach here.