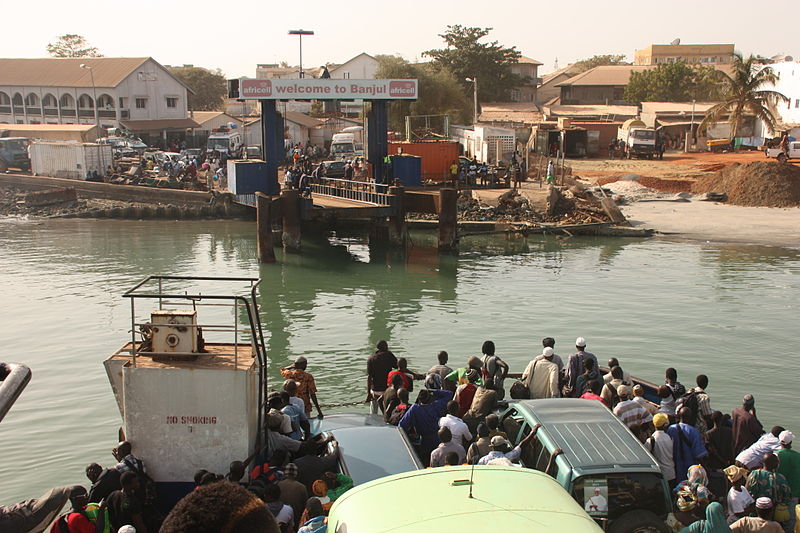 A ferry in Banjul, capital of The Gambia. Photo credit: Wikimedia/Lars Curfs (CC BY-SA 3.0)
KEY FACTS
Freedom House Rating
Partly Free
Government Type
Presidential Republic
Population
2.2 million
UPCOMING ELECTIONS
Legislative and Local Elections
April 2022 (due)
Presidential Election
December 2026 (due)
PAST ELECTIONS
Presidential Election
December 4, 2021
Local Elections
March-April 2018
Parliamentary Elections
April 6, 2017
Gambia is due to hold legislative and local elections in April 2022. These follow the December 2021 presidential election, in which incumbent Adama Barrow won a second term.
Political Context
In December 2016, The Gambia began a remarkable transition to democracy. Citizens removed dictator Yahya Jammeh – who had come to power in a coup and ruled with an iron fist for 22 years – peacefully, via the ballot box, in a surprising result. Opposition candidate Barrow won the presidency with the backing of a coalition of seven opposition parties. The country then began the process of establishing democracy and recovering from Jammeh's brutal dictatorship.
The subsequent parliamentary elections in April 2017 were generally judged as a free and fair.
However, Gambia's road to democracy has not been smooth.
The 2021/2022 Elections in Gambia
Although Barrow had initially promised to serve only one term, he ultimately sought and won re-election, which has sparked controversy and protest. He launched a new political party, the National People's Party (NPP), in early 2021.
Although Jammeh and Barrow had previously made a controversial pre-election deal, they abandoned it and Jammeh ultimately called on voters to oust Barrow, who nonetheless won re-election by a large margin. Even though international observers and Gambian civil society organizations have called the 2021 presidential election credible, some opposition candidates are challenging the results. 
Curated News and Analysis
Marième Soumaré, The Africa Report (January 6, 2022): The Gambia: Will Yahya Jammeh be tried by an African court?
DW (December 29, 2021): Gambia's highest court dismisses challenge to Adama Barrow's election
Sait Matty Jaw, African Arguments (December 14, 2021): Why the people picked Barrow again in Gambia's best-run elections ever
Pap Saine, Reuters (December 13, 2021): Gambia opposition files legal challenge to election result
Niklas Hultin, The Conversation (December 9, 2021): What Barrow's re-election means for The Gambia
AFP (December 8, 2021): US hails Gambian elections after Barrow victory
Pap Saine, Reuters (November 17, 2021): Gambian president warns opponent to keep exiled predecessor out of campaign
Eromo Egbejule, African Arguments (November 16, 2021): Gambia: The seat-warmer, the forever runner-up, and the return of Jammeh
Pap Saine, Reuters (November 7, 2021): Six to stand for president in Gambia's first election after Jammeh
Modou Joof, Bloomberg (November 4, 2021): Gambian President Barrow Defies Backers With Reelection Bid
Amat Jeng, Al Jazeera (October 15, 2021): The Gambia's democratic transition is facing a litmus test
Abe Daramy, BBC (September 25, 2021): Gambia's Jammeh pact bombshell: Treachery or reconciliation?
Achraf Tijani, The Africa Report (September 16, 2021): Gambia: Will Jammeh help Adama Barrow secure a second term?
Emil Touray, AFP (September 14, 2021): Anger as Gambian president allies with ex-dictator's party
AFP (September 6, 2021): Gambia ruling party merges with ex-dictator's ahead of poll
Alhagie Mbye, The Point Gambia (July 16, 2021): Human rights groups hail verdict against Yankuba Touray
AFP (July 14, 2021): Ex-Gambian junta member sentenced to death for murder
Reed Brody, Human Rights Watch (April 1, 2021): Interview with Reed Brody on the Jammeh2Justice campaign
Marième Soumaré, The Africa Report (February 3, 2021): Gambia: Adama Barrow on his way to a second term in office
Modou Joof, Bloomberg (January 31, 2021): Gambian Leader Launches Party He's Expected to Lead in Election
Omar Wally, DW (October 28, 2020): Gambia gets ready to swap marbles for ballot papers
Reuters (September 23, 2020): Gambia Opposition Laments Failure of Bid to Curb Term Limits
Jason Burke, The Guardian (January 28, 2020): Outcry over crackdown in the Gambia as president refuses to quit
21votes does not necessarily agree with all of the opinions expressed in the linked articles; rather, our goal is to curate a wide range of voices. Furthermore, none of the individuals or organizations referenced have reviewed 21votes' content. That is to say, their inclusion should not be taken to imply that they endorse us in any way. More on our approach here.
Updated January 16, 2022