January 27, 2022
A weekly review of news and analysis of elections in Eurasia, usually posted on Thursdays and occasionally updated throughout the week. For a full electoral calendar and interactive map, click here.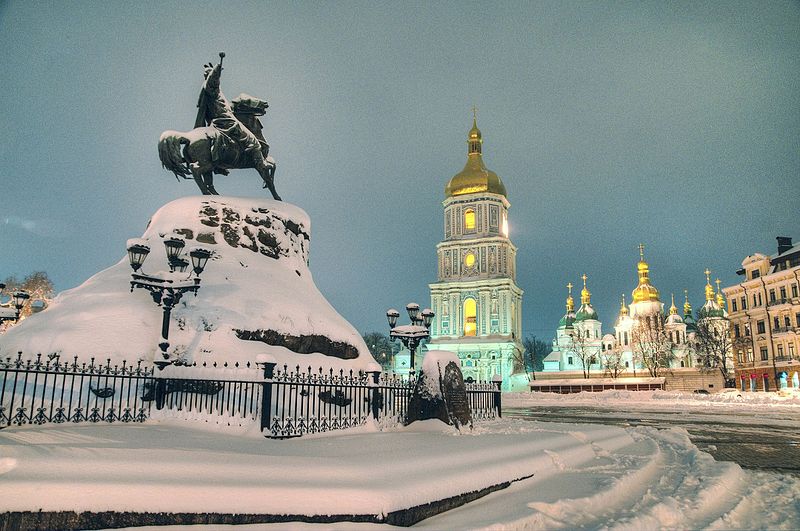 Saint Sophia Cathedral in Kyiv, Ukraine. Photo credit: Wikimedia/Ivan Sedlovskyi (CC BY-SA 4.0)
Upcoming Eurasia Elections
Belarus Constitutional Referendum: February 27, 2022 (proposed)
Belarus's dictator, Alexander Lukashenko, has called a constitutional referendum for February 27, 2022 as a way of extending his time in power (he has been president since 1994 – the first and only president of post-Soviet Belarus). The proposed changes would allow Lukashenko to remain in office until 2035. Belarus's elections and political processes are neither free nor fair.
The country las held a presidential election on August 9, 2020. In a vote widely deemed not free and not fair, Lukashenko declared victory. However, the opposition declared that Svetlana Tikhanovskaya had in fact won. Hundreds of thousands of Belarusians have taken to the streets in protest to demand free and fair elections, even in the face of assault and arrest by security forces. Protests and political defiance continue. 
In addition, Russia has been moving troops to Belarus in preparation for a possible invasion of Ukraine or other neighboring countries. More
Andrew Roth, The Guardian (January 25, 2022): 'Cyberpartisans' hack Belarusian railway to disrupt Russian buildup: Activists claim they could paralyse trains moving Russian forces for potential attack on Ukraine
Gustav Gressel and Pavel Slunkin, Foreign Policy Research Institute (January 25, 2022): Bonfire of sovereignty: Russian tanks in Belarus
Aiday Erkebaeva, Eurasianet (January 24, 2022): The weaponization of homophobia in Kyrgyzstan and Belarus: Authoritarian students have learned from their sponsors in Russia that wedge issues are useful for marginalizing the opposition.
Belsat (January 23, 2022): Another Belarusian detained after discussing amendments to Constitution
Ukraine Parliamentary Elections: By October 2023 and Presidential Election: By March 2024
Ukraine is due to hold parliamentary elections in 2023 and a presidential election in 2024. In the last presidential vote, in 2019, Actor and comedian Zelensky beat incumbent Petro Poroshenko running on an anti-establishment platform. However, since then, the country's traditional pro-Europe and pro-Moscow political forces have regained ground.
Russia's military aggression, which began in 2014, continues, and the threat of further invasion looms large.
David Roger Marples, The Conversation (January 27, 2022): Russia has reached the point of no return in its conflict with Ukraine
Michael Schwirtz, David E. Sanger and Mark Landler, New York Times (January 24, 2022): Britain Says Moscow Is Plotting to Install a Pro-Russian Leader in Ukraine: In a highly unusual public statement, backed by U.S. officials, London named the putative head of a potential puppet government but few other details.
Past Eurasia Elections
Kazakhstan Legislative Elections: January 10, 2021
Kazakhstan held legislative elections for January 10, 2021. The country's elections take place in the context of an authoritarian system in which critics of the government face harassment and arrest. As such, no genuine opposition has representation in the legislature.
A series of protests in January 2022 rocked the country and left as many as 225 people dead, as well as a reported 12,000 people in detention. Russia briefly sent personnel under the auspices of the Collective Security Treaty Organization (CSTO), its military alliance of several post-Soviet states. More
Dmitriy Mazorenko and Almas Kaisar, openDemocracy (January 27, 2022): On the ground in Kazakhstan's protests: what really happened?
Bruce Pannier, RFE/RL (January 25, 2022): After Kazakhstan's 'Bloody January,' Can Toqaev Ever Gain The People's Support?
AP (January 25, 2022): Explainer: What Post-unrest Reforms Is Kazakhstan Proposing?
Valerie Hopkins, New York Times (January 25, 2022): Kazakhstan's Longtime Leader Is Gone, but Still Seemingly Everywhere
Laura Pitel, Financial Times (January 25, 2022): Kazakhstan unrest shows Erdogan that Putin is still the regional 'big boss': Russian role in recent protest deals blow to Turkish president as he seeks to cultivate pan-Turkic unity
Gabriel Gavin, The Diplomat (January 25, 2022): After Kazakhstan, the CSTO Isn't Finished With Central Asia
Margaret Hu, The Conversation (January 24, 2022): Kazakhstan's internet shutdown is the latest episode in an ominous trend: digital authoritarianism
Naubet Bisenov, NBC News (January 21, 2022): Life returns to normality in Almaty, Kazakhstan, as Russian troops leave city
Georgia Local Elections: October 2 and 30, 2021
Georgia held local elections on October 2 and 30, 2021 in a tense political climate, exacerbated by the arrest of former president Mikheil Saakashvili upon his return to the country on the eve of the vote. Runoffs took place on October 30, including for the important role of mayor of Tbilisi, which the ruling Georgian Dream party failed to win in the first round. Ultimately, Georgian Dream did win the second round amid criticism from the opposition. 
A recent uptick in violence against the LGBT community and journalists, perpetrated by far-right and pro-Kremlin forces, has fueled the wider debate about where Georgia is going, both culturally and geopolitically.
The next parliamentary elections are due in October 2024, but snap elections could happen. More
Marie Dumoulin and Tefta Kelmendi, European Council on Foreign Relations (January 26, 2022): Lost in the Dream: How the EU can end the political deadlock in Georgia
Eurasia Elections Coming Up in 2022 and 2023
Belarus Constitutional Referendum: February 27, 2022
Russia Regional Elections (some regions): September 2022 (due)
Turkmenistan Parliamentary and Local Elections: March 2023 (due)
Moldova Local Elections: October 2023 (due)
Ukraine Parliamentary Elections: By October 29, 2023 (due)
21votes does not necessarily agree with all of the opinions expressed in the linked articles; rather, our goal is to curate a wide range of voices. Furthermore, none of the individuals or organizations referenced have reviewed 21votes' content. That is to say, their inclusion should not be taken to imply that they endorse us in any way. More on our approach here.