August 23, 2021
A weekly review of news and analysis of elections in Africa, usually posted on Mondays and occasionally updated throughout the week. For a full electoral calendar and interactive map, click here.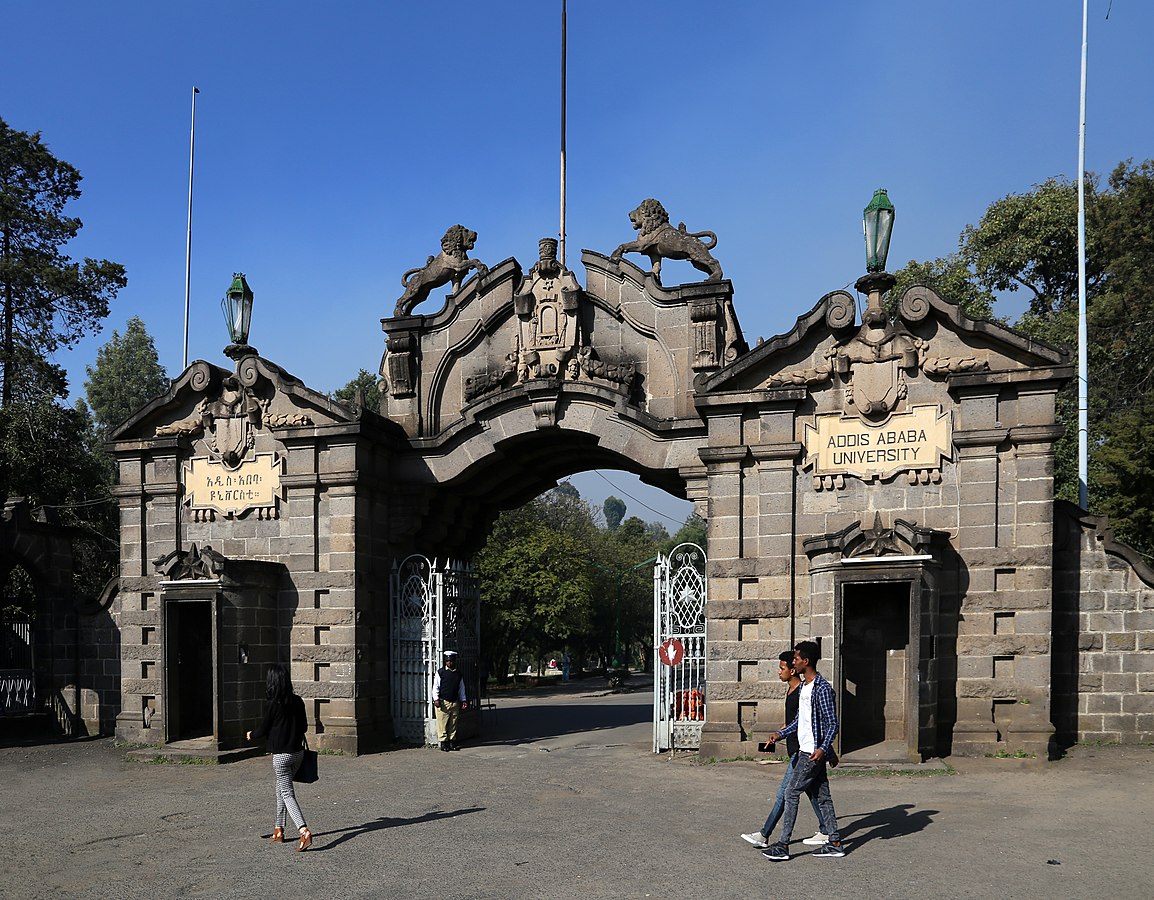 The gate of Addis Ababa University. Ethiopia's stability is fragile amid ethnic violence and political tensions. Photo credit: Wikimedia/Sailko (CC BY 3.0)
Upcoming Africa Elections
Sao Tome and Principe Presidential Runoff: September 5, 2021 (delayed from August 8)
São Tomé and Príncipe (frequently called STP) is due to hold a presidential runoff, following the first round on July 18, 2021. The runoff was supposed to take place on August 8, but faced a delay because the candidate who placed third in the first round – and thus did not make the runoff – contested the results. However, a court ordered the runoff to go forward, but has been delayed to September 5.
The current president, Evaristo Carvalho, from the centrist ADI party, is not running for a second term – the first time this has happened in STP's history. Nineteen candidates ran to succeed him, including six from the MLSTP-PSD party, which was the ruling party during the communist era and currently heads the government.
In the runoff, former infrastructure minister Carlos Vila Nova from ADI will face off against former prime minister Guilherme Posser da Costa from MLSTP-PSD. Since the end of Marxist one-party rule in 1991, São Tomé and Príncipe has held regular elections with peaceful transfers of power, and is generally considered a free democracy.
In STP's semi-presidential system, the prime minister holds executive power and serves as head of government, while the president serves as head of state, arbitrating within the government and representing the country.
LUSA (August 23, 2021 – in Portuguese): Opposition blames the ruling party for the "serious" political crisis in São Tomé
Ethiopia Partial Elections: September 30, 2021
Ethiopia held general elections on June 21, 2021, after several postponements. These elections took place in the context of increasing ethnic violence that has reached crisis levels. Prime Minister Abiy Ahmed, previously a reformer (he even won a Nobel Peace Prize in 2019) but most recently an authoritarian, won in a landslide. Polling couldn't happen in several areas due to the ongoing conflict, so make-up votes are due to take place this fall.
AFP (August 24, 2021): Ethiopia announces fresh delays to polls
Stratfor (August 24, 2021 – podcast): Essential Geopolitics: Ethiopia and Tigray Forces Battle On…Toward What?
Charles A. Ray, Foreign Policy Research Institute (August 18, 2021): Violence in Tigray Threatens Ethiopia's Already Fragile Stability
Somalia Indirect Presidential Election: October 10, 2021 (preceded by indirect legislative elections in the preceding months) POSTPONED – no new date set
Somalia was supposed to hold an indirect presidential election on February 8, 2021, following indirect parliamentary elections in December 2020. However, the elections have been delayed, and the term of President Mohamed "Farmaajo" has expired, leaving Somalia in a political and constitutional crisis. In April 2021, Farmaajo sought to extend his term for two years, but parliament voted to reject the extension.
While the United States and the EU threatened sanctions, some analysts believed that the delay could pave the way for direct elections. However, critics dismiss this idea as a ruse to justify Farmaajo's extension of his term. The parties reached a deal to hold the elections on October 10, 2021, but as is usually the case with Somalia, the date could change. More
Mohamed Kahiye, Voice of America (August 23, 2021): Somali Opposition Leaders Reject New Election Roadmap
Amr Emam, Al-Monitor (August 21, 2021): Egypt pledges support to Somalia, eyeing Horn of Africa influence
Nigeria, Anambra State Gubernatorial Election: November 6, 2021, followed by several state elections in 2022, and general elections in 2023
Nigeria, Africa's most populous country, holds general elections in February 2023, but some states are due to hold elections before that, including Lagos, Nigeria's biggest city and economic hub.
In addition, potential 2023 candidates have already begun jockeying for position. Since the return to civilian rule, vote-rigging and violence have plagued elections. While the 2015 polls – which handed the opposition its first-ever victory – were considered credible, international and Nigerian observers found that the 2019 polls fell short. The country is in the midst of several security crises.
Vatican News (August 23, 2021): Nigerian Bishops call on Catholic politicians to make a difference to the nation's politics
Mali Presidential and Legislative Elections: February 27, 2022 (following two coups)
Mali has set presidential and legislative elections for February 27, 2022, following the August 2020 coup. In the coup, soldiers removed President Ibrahim Boubacar Keïta, dissolved parliament (which had just been elected in April, in elections marred by fraud and intimidation) and established a transitional government. Before that, there will be a constitutional referendum on October 31, 2021 and local and regional elections on December 26.
On May 25, Mali had another coup, but leaders have stated that the elections will remain on the calendar for 2022. However, the situation remains fluid.
Stephen L. Esquith, The Conversation (August 24, 2021): Mali's roadmap for lasting peace has laudable goals: but it doesn't go far enough
RFI (August 21, 2021): Ecowas demands justification for detention of Mali's former interim leaders
AFP (August 18, 2021): Mali timeline: A year of turmoil
Kenya General Elections: August 9, 2022
Kenya is due to hold general elections on August 9, 2022. The last elections, in August 2017, were disputed, and the presidential poll was re-run in October 2017. President Uhuru Kenyatta won re-election after opposition leader Raila Odinga encouraged his supporters to boycott the re-run. Kenyan politics is highly polarized with a strong ethnic component.
Kenyan Deputy President William Ruto is portraying himself as the champion of the poor ahead of elections, but critics have dismissed his "bottom-up" idea as full of "hackneyed clichés".@thisisonyango on Kenya's new political divide ➡️ https://t.co/HtVYb6X7GB

— BBC News Africa (@BBCAfrica) August 26, 2021
Kwame Otiende, Mail and Guardian (August 24, 2021): Kenya: How the 'Chameleon' Jomo Kenyatta did it
David Herbling, Bloomberg (August 20, 2021): Kenyan Court Backs Ruling Against Plan to Reshape Government
Chad Elections: By December 2022 (tentative, post-coup)
Chad held a presidential election on April 11, 2021. President Idriss Déby, seized power in a rebellion in 1990, won a sixth term. However, on April 20, he was killed by rebels.
Although the country holds elections, there has never been a change in power by a free or fair vote. Long-delayed long-delayed parliamentary elections had been set for October 24, 2021 and local elections for April 2022. Originally due in 2015, the legislative elections have been delayed multiple times. However, Deby's death could lead to further delays – the military has said it plans to rule the country for 18 months. More
Ruth Maclean and Mady Camara, New York Times (August 24, 2021): Hissène Habré, Ex-President of Chad Jailed for War Crimes, Dies at 79
AFP (August 21, 2021): Chad says will withdraw half its troops from G5 Sahel force
Editorial Board, Africa Times (August 24, 2021: National dialogue raises hopes for peace in Chad
Democratic Republic of the Congo General Elections: December 2023 (due)
The DRC is due to hold general elections in 2023. The December 2018 presidential and legislative elections, which took place after multiple delays, were mired in controversy and dispute. The election commission declared opposition leader Félix Tshisekedi the winner of the presidential poll, but the Catholic Church, which deployed 40,000 election observers and is a highly trusted institution in the country, said that their data indicated a victory for another opposition leader, Martin Fayulu.
When Kabila's chosen successor, Emmanuel Ramazani Shadary, was polling too poorly for Kabila to credibly rig the election for him, Kabila cut a deal with Tshisekedi.
The legislative elections – also highly disputed – produced a majority for Kabila's coalition. Major opposition figures Moïse Katumbi and Jean-Pierre Bemba were barred from the polls and spent the election cycle outside the country, but both have returned.
David Zounmenou, ISS Today (August 24, 2021): Limiting presidential eligibility could drive deep divides in the DRC
Sudan General Elections: 2024 (due)
Sudan plans to hold general elections in 2024, the culmination of a five-year transition to democracy that began with the July 2019 removal of dictator Omar al-Bashir following several months of protests. Al-Bashir was removed in a military coup, and a junta ruled briefly, but entered into an agreement with the Forces of Freedom and Change (FFC), a wide-ranging coalition of opposition groups, to transition the country to democracy. However, numerous challenges remain.
Dabanga (August 20, 2021): Sudan TSC tells political parties to prepare for elections
Past Africa Elections
Zambia General Elections: August 12, 2021
Zambia held August 12, 2021 following a hotly-contested campaign between President Edgar Lungu and Hakainde Hichilema, the main opposition leader, who narrowly lost to Lungu in 2016. Ultimately, Hichilema won the presidential election in a landslide, restoring hope in Zambia's democracy.
Zambia used to be a model democracy in the region, with regular, competitive elections and a vibrant civil society. However, under Edgar Lungu, elected in 2015 to complete the term of Michael Sata (who died in office), Zambia began to regress toward authoritarianism. The 2016 elections were marred by political violence and allegations of vote-rigging but ultimately judged credible. Similarly, this year, despite concerns about violence and the larger pre-election environment – as well as a social media shutdown on election day – observers judged the polls credible. Lungu initially took a page from Donald Trump's playbook and alleged fraud, but ultimately conceded defeat. Hichilema's liberal United Party for National Development (UPND) also won a majority in the parliamentary election.
Chris Changwe Nshimbi, The Conversation (August 22, 2021): Why Edgar Lungu and his party lost Zambia's 2021 elections
I thought this article captured the heart of the Zambian election brilliantly. https://t.co/3WsR0Ns1tL

— Laura Miti (@LauraMiti) August 20, 2021
Phillan Zamchiya, Daily Maverick (August 19, 2021): Zambia elections: Six lessons for African electoral democracy
The Economist (August 19, 2021): The task facing Zambia's new president, Hakainde Hichilema
Lynsey Chutel, News24 (August 18, 2021): Hichilema's win in Zambia inspires hope for southern Africa's opposition leaders, says Maimane
Michelle Lewis, Electrek (August 18, 2021): Electric cars need cobalt and copper, and Zambia's president-elect wants to supply it
Central African Republic Partial Legislative Elections and Runoffs: March 14, 2021
The Central African Republic (CAR) held presidential and partial legislative elections on December 27, 2020 in the midst of a worsening security situation. Rebels disrupted voting in some areas, so consequently, those constituencies held the first round of their legislative elections on March 14, 2021. In addition, some of the constituencies that did vote on December 27 held runoff elections for their legislators.
These elections took place in the context of a humanitarian crisis and a crisis of governance. Sectarian clashes have been taking place since 2013. Moreover, Russia has ramped up its political and military involvement in exchange for mining rights. More 
Jack Losh, Foreign Policy (August 21, 2021): In Central Africa, Russia Won the War—but It's Losing the Peace: Putin's pursuit of influence, arms sales, and mercenary meddling in the Central African Republic has left Moscow mired in a quagmire
RFI (August 20, 2021): French wine giant Castel accused of funding rebels in CAR
Ronald Lwere Kato, Africanews (August 18, 2021): Central African Republic President's rival flees after treason charges
Regional News and Analysis
Lazarus Chakwera, Newsweek (August 23, 2021): Democracy and Security May Be in Retreat, But Not for Millions in Africa | Opinion
Catherine Byaruhanga, BBC (August 21, 2021): Africa's jihadists: What Taliban takeover of Afghanistan means
Devidiscourse (August 18, 2021): Malawi President Lazarus Chakwera elected as new SADC Chairperson
Africa Elections Coming Up in 2021 and 2022
Sao Tome and Principe Presidential Runoff: September 5, 2021 (Proposed – twice delayed, from August 8 and August 29)
Somalia Indirect Presidential and Legislative Elections: October 10, 2021 (Delayed – no new date set)
Cabo Verde Presidential Election: October 17, 2021
South Africa Local Elections: October 27, 2021
Nigeria, Anambra State Gubernatorial Election: November 6, 2021
Gambia Presidential Election: December 4, 2021
Angola Local Elections: Overdue, might possibly happen in 2021
Senegal Local Elections: January 31, 2021
Mali Presidential and Legislative Elections: February 27, 2022 (following coup)
Gambia Parliamentary Elections: April 2022 (due)
Burkina Faso Local Elections: May 2022 (due)
Lesotho Parliamentary Elections: June 2022 (due)
Republic of Congo Legislative Elections: July 2022 (due)
Senegal Legislative Elections: July 2022 (due)
Kenya Presidential and Legislative Elections: August 9, 2022
Angola Legislative Elections: August 2022 (due)
Sao Tome and Principe Parliamentary Elections: October 2022 (due)
Equatorial Guinea Parliamentary Elections: November 2022 (due)
21votes does not necessarily agree with all of the opinions expressed in the linked articles; rather, our goal is to curate a wide range of voices. Furthermore, none of the individuals or organizations referenced have reviewed 21votes' content. That is to say, their inclusion should not be taken to imply that they endorse us in any way. More on our approach here.