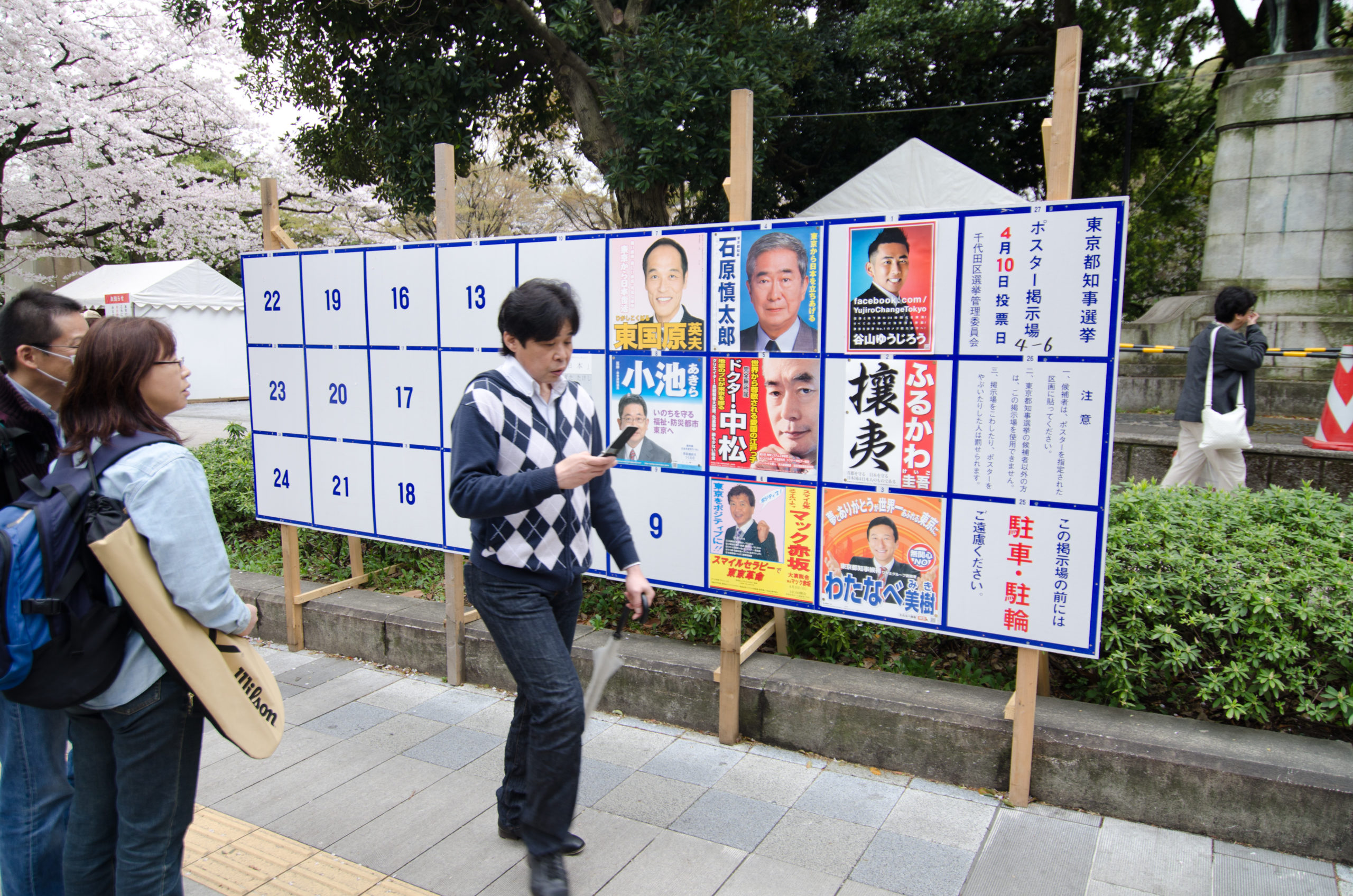 Campaign posters on an official poster board during the 2011 local elections in Japan. Photo credit: Flickr/Paul Robinson (CC-BY-2.0)
KEY FACTS
Freedom House Rating
Free
Government Type
Parliamentary Constitutional Monarchy
Population
126.2 million
NEXT JAPAN ELECTIONS
Kumamoto Gubernatorial Election
March 22, 2020
Tokyo Gubernatorial and Assembly By-Elections
July 5, 2020
House of Representatives (lower house) Elections
By October 22, 2021
PAST JAPAN ELECTIONS
House of Councillors (upper house) Elections
July 2019
Local Elections (plus 11 gubernatorial elections)
April 7, 2019
House of Representatives (lower house) Elections
October 22, 2017
Japan is due to hold general elections on October 22, 2021, although snap elections are possible.
Political Context
Elections in Japan happen at various times. The key elections – the ones that determine the government – are for the House of Representatives, the lower house of the National Diet, whose 465 members are elected for four-year terms. However, early elections happen periodically. Conversely, the elections for the House of Councillors take place every three years, with half of the house elected as members serve six-year terms.
The conservative Liberal Democratic Party (LDP) and its coalition partner, Komeito, a Buddhist religious party, hold a majority in the lower house. In the 2019 upper house elections, LDP sought gain a two-thirds majority in order to revisit and possibly amend Japan's pacifist constitution. LDP and Komeito did maintain their majority in the upper house, but fell short of the super-majority.
The LDP has dominated Japanese politics since its founding in 1955, with a few brief periods in opposition (most recently from 2009 to 2012, when the now-defunct center-left Democratic Party of Japan (DPJ) swept the elections, but then failed to deliver on its ambitious promises, and thus lost three years later). The DPJ, which had been founded in 1998, disbanded in 2016, and the opposition remains somewhat in chaos.
In August 2020, prime minister and LDP leader Shinzo Abe announced his resignation for health reasons. The party chose Abe ally Yoshihide Suga to succeed him. It is possible that Suga will call early elections.
Geopolitical Context
As China pursues maritime expansion in the Indo-Pacific, Japan remains a key U.S. ally in the region. Concurrently, Abe is working to expand Japan's global diplomatic and security footprint, while seeking to revise the country's pacifist constitution.
Japan's relationship with fellow U.S. ally South Korea is deteriorating as South Korea grows closer to China while seeking to balance its existing relationship with the United States.
Curated News and Analysis
Gavyn Davies, Financial Times (October 18, 2020): Japan's Suga inherits an economy stabilised by Abenomics
Isabel Reynolds and Emi Nobuhiro, Bloomberg (October 7, 2020): Japan's Suga Could Call Election Early Next Year, Adviser Says
Yoko Wakatsuki, James Griffiths and Jessie Yeung, CNN (July 22, 2019) Shinzo Abe declares victory in Japan election but fails to win super majority
21votes does not necessarily agree with all of the opinions expressed in the linked articles; rather, our goal is to curate a wide range of voices. Furthermore, none of the individuals or organizations referenced have reviewed 21votes' content. That is to say, their inclusion should not be taken to imply that they endorse us in any way. More on our approach here. 
Updated October 18, 2020