Each day, 21votes gathers election news, analysis, and opinions from a different region of the world. We explore Africa on Mondays. Click the map pins.
Upcoming Elections
Somalia Jubaland State Presidential and Parliament (indirect) – August 2019 and Federal Parliamentary and Presidential – due 2020 or 2021
Freedom House Rating: Not Free – Government Type: Federal Parliamentary Republic
Somalia hasn't held direct elections in 50 years at the federal level, and at the state level, only the de facto independent Somaliland holds one-person-one-vote polls. The other states have electoral colleges with clan elders as electors. Somalia has federal elections due in 2020 or 2021, and hopes to move toward a one-person-one-vote model. However, the August Jubaland elections are not direct (which is why they are not on our big map). Politics – and conflict – throughout Somalia is largely based on clans, but efforts have been made to move toward a politics based on political parties. The terrorist group al-Shabab remains a menace.
Jubaland is rich in natural resources, raising the stakes of the election. Kismayo, the capital of Jubaland, this month saw the biggest terrorist attack since an action led by Kenyan soldiers ousted al-Shabab from the city in 2012.
African Union Mission in Somalia: "Somalia has launched a public awareness campaign on the 2020/21 elections to ensure residents keep abreast of ongoing preparations for the one-person, one-vote exercise."
Garowe Online: "The second Parliament of Somalia's southern Jubaland state was inaugurated in a ceremony held on Tuesday in Kismayo, about 500 kilometers south of Mogadishu, Garowe Online reports….The electoral commission of Jubaland has pledged free, fair and transparent election shortly before announcing the new lawmakers, who were elected by the traditional elders in the Somali Federal State."
Aggrey Mutambo, The East African: "Understanding Jubbaland elections; what's at stake? Stretching from Gedo in the south to the Indian Ocean and bordering the entire Kenyan frontier with Somalia, Jubbaland is politically seen as Kenya's buffer against Somali militant group al-Shabaab."
Mark Bichachi, The Standard (Kenya): "Jubaland is about to have an election. An election that matters to us because it is the federal state of Somalia that borders us. It is what determines whether Al Shabaab can reach Kenya or not. For the last few years, it has been led by a president who is firmly against Al Shabaab. A president who has actively fought against the terrorist group and thus kept us safe."
Abdi Sheikh, Reuters: "The suicide bomber who killed the mayor of Mogadishu and six other people last month was a blind, female employee of the municipal government who was assisted by a fellow worker, Somalia's internal security ministry said on Friday."
Zimbabwe National Assembly By-Elections, Glen View South and Mangwe constituencies – September 7, 2019
Freedom House Rating: Partly Free (improved from Not Free in 2019) – Government Type: Presidential Republic
A coup in 2017 led to the fall of Robert Mugabe, Zimbabwe's longtime dictator, who left a legacy of gross economic mismanagement and political repression. Mugabe had ruled Zimbabwe with the aid of former Soviet security advice since the transition of apartheid rule in 1979. The 2018 elections for parliament and president had a number of flaws but nonetheless did offer the hope of some semblance of democratic legitimacy to the government. Emmerson Mnangagwa of Mugabe's ZANU-PF – a former intelligence chief nicknamed "The Crocodile" – narrowly won the presidential race, and promised "radical economic reforms." However, critics say those reforms have not materialized as of yet, and a violent crackdown on the opposition following the elections echoed Mugabe's tactics. Zimbabweans live with extreme poverty, food insecurity, and hyperinflation.
The Glen View South seat became vacant when Vimbai Tsvangirai-Java, the daughter of Mugabe's main rival the late Morgan Tsvangirai, died in a car crash. Tsvangirai was leader of Zimbabwe's main opposition Movement for Democratic Change (MDC), and members of his family still serve in the party. The Mangwe seat became vacant when ZANU-PF's Obedingwa Mguni died of an illness. Glen VIew is near the capital, Harare, in the northeast of the country, and Mangwe is near Bulawayo, Zimbabwe's second city, in the southwest of the country.
Tinashe Kairiza, The Zimbabwe Independent: "ZIMBABWE staged three by-elections in Matabeleland North last weekend, an opposition stronghold since the formation of the MDC in 1999, but all three were won by Zanu PF, bringing under the spotlight the opposition's longstanding failure to mobilise support in rural areas."
Patrick Kingsley and Jeffrey Moyo, New York Times: "A Coup Offered Hope to Zimbabwe. Has Its New President Delivered?"
Jason Burke, The Guardian: "'Hungry kids collapse as looters take millions': life in today's Zimbabwe: Far from seeing reform after Robert Mugabe was toppled, the country has fallen into crisis as millions are 'reduced to paupers'"
Shingai Nyoka, BBC: "Zimbabwe after Mugabe: The country where pensions have disappeared: As of June 2019, inflation had already hit 98%. In July, the local currency, the Zimbabwe dollar, was reintroduced after a decade of using the US dollar and other international currencies. Annual inflation then soared to 176%."
Mozambique Presidential, Legislative, and Provincial – October 15, 2019
Freedom House Rating: Partly Free – Government Type: Presidential Republic
Mozambique's politics have been dominated by FRELIMO, which has been in power since 1975, when Mozambique became independent, and the main opposition RENAMO. The parties evolved from armed groups that fought a civil war between 1976 and 1992 (and have engaged in clashes since then until an August 2019 peace accord). The Soviet Union backed FRELIMO, while Rhodesia and then apartheid South Africa backed RENAMO.
RENAMO disputed the results of the October 2018 local elections, where it received its best-ever result, winning eight of 53 municipalities, but lost several others it had expected to win. RENAMO alleges the losses were due to fraud and irregularities. Mozambique faces an Islamist insurgency in the north and devastation from two tropical cyclones in spring 2019. The country discovered natural gas in 2009, and while major companies are interested in prospecting, it will be a long time before Mozambique sees gas wealth. In the upcoming elections, in addition to voting for president, citizens will elect provincial governors directly for the first time – previously, they had been appointed by the president.
Manuel Mucari, Emma Rumney and Alistair Smout, Reuters: "With a handshake and a hug, Mozambique's leaders hoped on Tuesday to close the book on a decades-long conflict. But an election in October and new causes of violence mean lasting peace is far from assured."
Alex Vines, Mail and Guardian: "Third time lucky for peace in Mozambique?"
Dércio Tsandzana, Global Voices: "Who are the presidential candidates in Mozambique's October elections? The campaign period will officially begin on August 31"
Nigeria Kogi and Bayelsa State Governorships – November 16, 2019
Freedom House Rating: Party Free – Government Type: Federal Presidential Republic
Eromo Egbejule, The Africa Report: "Nigeria: Bayelsa State gubernatorial fight is about access to oil money…This November, the PDP will attempt to snatch Kogi state from the APC — and the APC will try to do likewise in the opposition-held Bayelsa."
Punch (Nigeria): "The Peoples Democratic Party has won all the eight Local Government Areas of Bayelsa in the just concluded election organised by the Bayelsa State Independent Electoral Commission on Saturday. The News Agency of Nigeria reports that Bayelsa has eight LGAs, and it won all, as the All Progressives Congres did not partake in the election because of alleged irregularities."
The Charleston Chronicle: "He Named His Movement 'Revolution Now' And They Jailed Him"
Cameroon Municipal, Legislative, and Regional – Early 2020 (delayed from October 2019)
Freedom House Rating: Not Free – Government Type: Presidential Republic
Cameroon is in the midst of several crises. Anglophone separatists seek to form a new country called Ambazonia. The government has accused them of terrorism. The crisis is currently deadlocked, with neither side willing to make concessions, leaving half a million people displaced.
Cameroon also faces a political crisis. President Paul Biya, at age 85 the oldest ruler in Africa, won re-election in October 2018, after having already spent 36 years in power. The election was marred by accusations of ballot-stuffing and intimidation of the opposition. The opposition claims Maurice Kamto actually won the election, and opposition supports have staged a number of protests, which the government answered with a harsh crackdown and hundreds of arrests, including the arrest of Kamto himself. Biya's Cameroon People's Democratic Movement (CPDM) holds 142 out of 180 seats in the lower house. The Social Democratic Front is the main opposition in the legislature and hold 18 seats, while Kamto's Cameroon Resistance Movement (MRC) holds one seat. The political crisis has an ethnic dimension.
Opposition parties are currently debating what to do about the upcoming municipal, legislative, and regional elections, which are likely delayed following a July vote by the National Assembly to extend its term in office (the National Assembly's second extension). The mandates were set to expire October 29, 2019 and have been extended for two months, so the elections that had been due in October most likely will not happen before 2020.
Le Figaro with AFP (in French): "Forty-one Cameroon opposition activists were sentenced Thursday in Douala (in the south) to six months in prison for having participated in demonstrations contesting the result of last October's presidential election, according to lawyers for their party, the MRC."
Moki Edwin Kindzeka, VOA: "Hundreds of people marched in Cameroon's capital, demanding to know the whereabouts of imprisoned relatives who were moved to unknown locations last week after a riot inside a large Yaounde jail."
Robbie Gramer and Jefcoate O'Donnell, Foreign Policy: "African Governments Rush to Hire Trump-Linked Lobbyists. Accused of atrocities, Cameroon is only the latest to jump in, employing a firm that just brought on Donald Trump's former acting attorney general."
Amindeh Blaise Atabong, Quartz: "The tiny oil-rich central African nation of Equatorial Guinea is carrying on plans to erect a wall along its 183km-long border with Cameroon. The plans have sparked controversy with Cameroon authorities because of concerns about encroachment into Cameroon's territory."
Somaliland Parliamentary and Local – December 12, 2019 (now postponed – no new date set)
Freedom House Rating: Partly Free – Government Type: De facto independent state (technically part of the Federal Parliamentary Republic of Somalia)
Somaliland has de facto but not internationally-recognized independence from the failed state of Somalia. The last elections for the House of Representatives happened in 2005. The upcoming elections set for November 2019 were due in 2010 but faced multiple delays. Despite the lack of recognition, Somaliland is a functional state with more freedom and better governance than the rest of Somalia.
Garowe Online: "Somalia: Somaliland for 5th time postpones parliamentary elections"
Ethiopia Parliamentary – Due May 2020
Freedom House Rating: Not Free – Government Type: Federal Parliamentary Republic
Following three years of protests, Ethiopia's ruling Ethiopian People's Revolutionary Democratic Front (EPRDF) chose reformer Abiy Ahmed as prime minister. Abiy began a historic process of democratization, including releasing political prisoners and opening up Ethiopia's previously closed political space. However, Ethiopia's reformers face many obstacles. Nonetheless, many Ethiopians are hopeful. However, violence could threaten Abiy's reforms.
In the 2015 elections – which were not free and fair – the EPRDF won 100 percent of the parliamentary seats.
Reuters: "Ethiopia's ruling coalition said on Friday it will hold a national election next year, defying worries over security and displacement in the Horn of Africa country that had led some to speculate the election might be postponed."
Corrado Cok, Global Risk Insights: "Ethiopia's critical juncture: Ethnic tensions and liberal transition"
Tom Gardner, The Atlantic: "Ethiopia's Economy Is Booming, but at What Cost? A dam built with Chinese money stopped the Omo River from flooding, altering the lives of more than half a million people."
Mohammed Girma, The Conversation: "Ethiopia needs a new rallying point instead of recycling its painful past"
Burundi Presidential and Legislative – May 20, 2020
Freedom House Rating: Not Free – Government Type: Presidential Republic
In 2015, President Pierre Nkurunziza ran for a third term, which critics said was unconstitutional. Nkurunziza's decision sparked a political crisis. The opposition boycotted the election. Nkurunziza won, but the election was marred by violence and a coup attempt. In 2018, Nkurunziza said he would step down in 2020. Burundi's 12-year civil war ended in 2005, but violence and authoritarianism have been on the rise. Many Burundians are nervous about the upcoming polls.
Desire Nimubona, Bloomberg: "Burundi Opposition in Exile Says It Will Contest 2020 Elections"
RFI: "A malaria outbreak of 'epidemic proportions' has killed some 1,800 people in Burundi in 2019, with a death toll on par with neighbouring Democratic Republic of Congo's contagious Ebola, according to the latest report by OCHA, the UN Office for the Coordination of Humanitarian Affairs."
#Burundi: Malaria has claimed the life of Burundian 6-year-old @YouTube star known for his popular comedy sketches. In order to hide its bad governance, mismanagement and corruption, the @BurundiGov says malaria is not at epidemic proportions. ?https://t.co/MTlKZqhTvT

— iBurundi (@iburundi) August 10, 2019
Chad Legislative and Local – Due 2019
Freedom House Rating: Not Free – Government Type: Presidential Republic
Idriss Déby seized power in a rebellion in 1990, and although the country holds elections, there has never been a change in power by a free or fair vote. Western governments, particularly France, view the Déby regime as a security partner in countering terrorism in the region, and provide military aid. Opposition activists face arrest and mistreatment. There are concerns that the regime uses counterterrorism as an excuse for suppressing legitimate political opposition.
The mandate of the current National Assembly expired in 2015, and the elections have been delayed multiple times. In 2018, President Idriss Déby announced that the elections would happen in the "first half of 2019," without giving a date, but in May 2019, the government delayed the elections indefinitely again, citing cost. The opposition holds that the real issue is a lack of political will.
AFP: "At least 37 people have been killed in fresh fighting this week between rival ethnic groups in Chad, President Idriss Deby said on Friday. The violence broke out over three days in the eastern province of Ouaddie, a strategic area on the border with Sudan, he said."
Marcel Plichta, World Politics Review: "Will Chad's Deby Suffer the Same Fate as Bashir in Sudan?
Côte d'Ivoire Presidential and Legislative – October 31, 2020
Freedom House Rating: Partly Free – Government Type: Presidential Republic
Jeune Afrique: "Ivorian President Alassane Ouattara has maintained suspense over his possible candidacy for the presidential election of October 2020, during an interview on state television on Tuesday, the eve of Independence Day. He also mentioned a possible amendment to the Constitution."
Amnesty International: "Côte d'Ivoire: Growing attacks on activists and opposition ahead of elections"
Tanzania General – October 2020
Freedom House Rating: Partly Free – Government Type: Presidential Republic
Tanzania's socialist Chama Cha Mapinduzi (CCM) party and its predecessors have been in power since 1961. In the 2015 elections, deemed imperfect but credible by observers, John Magufuli won, and has since launched a crackdown on the opposition, media, civil society, and the private sector. The main opposition center-right Chadema, whose leader Freeman Mbowe recently spent nearly five months in prison on charges of sedition, currently holds 62 out of 384 seats in the unicameral National Assembly. Edward Lowassa, a former CCM prime minister who ran for president in 2015 as the candidate of Chadema and a coalition of other opposition parties, won 40 percent of the vote. Lowassa has since returned to CCM along with other opposition figures who have been bribed or bullied into crossing the aisle and joining the ruling party.
The Economist notes, "Today Tanzania is on the descent from patchy democracy towards slapdash dictatorship."
Jane Flanagan, The Times: "Mood darkens in Tanzania as Magufuli silences his critics"
Jeff Conroy-Krutz, Mail and Guardian: "Fresh vigilance is needed to protect media freedom across Africa"
Joel Simon, Committee to Protect Journalists: "These cases strike fear in the local media community and have the potential to exacerbate a culture of self-censorship, as journalists retreat from critical reporting for fear of facing a similar fate. They are also emblematic of the rapid deterioration of press freedom in Tanzania, which has included the suspension of media outlets on specious allegations, restrictive regulation, and legal harassment of journalists, as CPJ has documented."
Uganda General – February 2021
Freedom House Rating: Not Free (downgraded from Partly Free this year) – Government Type: Presidential Republic
President Yoweri Museveni has held power since 1986 and looks likely to seek a sixth term. Musaveni is seen as an ally to Western governments on counterterrorism issues, despite concerns about human rights and civil liberties.
Musaveni's National Resistance Movement (NRM), an authoritarian nationalist party, was originally a militia involved in the struggle to topple the government in 1986. In the last presidential election in 2016 (which was marred by an uneven playing field and government use of state resources and security services for political purposes), which wasn  Kizza Besigye of the main opposition center-right Forum for Democratic Change (FDC) won 35.6 percent, coming in second. NRM holds 293 out of 426 seats in parliament, and FDC holds 36 (other opposition parties hold 21).
Tom Wheeldon, France24: "A Ugandan court on Tuesday charged Bobi Wine, a singer-turned-politician and avowed adversary of President Yoweri Museveni, with "annoying" the country's leader in a move some analysts say is part of a "worrying" increase in political repression."
Godfrey Olukya, OZY: "Inspired by Wine's quick rise from a political nobody to the Ugandan opposition's strongest bet against Museveni, a wave of music artists is joining politics in the country, seeking election to positions ranging from the presidency to legislators, and mayors to district and village leadership."
Peter Clottey, Salem Solomon, VOA: "Uganda Internet Registration Stirs Free Speech Concerns"
Angola Local – Due 2020 or 2021
Freedom House Rating: Not Free – Government Type: Presidential Republic
Angola is due to hold its first-ever local elections in 2020 or 2021.
EIN Presswire: "The National Assembly approved on Monday, by consensus, the Organic Law on the Organization and Functioning of Local Authorities, whose elections are scheduled for 2020."
Past Elections
Togo Local By-Elections – August 15, 2019
Freedom House Rating: Partly Free – Government Type: Presidential Republic
These elections happened in the context of widespread protests that began in 2017 demanding the resignation of President Faure Gnassingbé, whose family has ruled Togo for 50 years, the longest-ruling family in Africa. In December 2018, the C14 coalition of opposition parties boycotted legislative elections and their supporters did not vote, but Gnassingbé's party still managed to lose seats. However, a brutal crackdown has led to reduced morale for the opposition.
Isaac Kaledzi, Africa Feeds: "Togo lawmakers have passed a new law that restricts demonstrations, in an attempt to clamp down on opposition rallies. Opposition parties have been agitating over the state of affairs in Togo, demanding the exit of current President Faure Gnassingbe."
Mauritania Presidential – June 22, 2019
Freedom House Rating: Not Free – Government Type: Presidential Republic
Mauritania's incumbent president, Mohamed Ould Abdel Aziz, came to power in a military coup in 2009 and the country is rated "not free" by Freedom House, but some hope that political space could be opening up, albeit slowly. While most believed that the ruling Union for the Republic party's candidate, Defense Minister Mohamed Ould Ghazouani, would win (and he was indeed declared the winner), opposition candidates, including anti-slavery activist Biram Dah Abeid, participated. This contrasts with the 2014 presidential election, which the opposition boycotted. There are concerns about the electoral process and the lack of international observers.
Mohamed al-Bakay, Andalou Agency: "New government formed in Mauritania: Fresh cabinet announced on state TV after Mohamed Ould Ghazouani assumes presidency last week"
Malawi Tripartite (Presidential, Legislative, Local) – May 21, 2019
Freedom House Rating: Partly Free – Government Type: Presidential Republic
Frank Jomo, Bloomberg: "Tens of of thousands of Malawians gathered in the streets of the main cities on Tuesday [August 6] to demand the resignation of Jane Ansah, the head of the southern African nation's electoral agency that they accuse of helping rig an election to keep Peter Mutharika as president."
AFP: "Demonstrations have been regularly staged since the May 21 elections, aimed at forcing out Electoral Commission chairwoman Jane Ansah over her handling of the poll….While the protests in Blantyre and Mzuzu were generally peaceful, the Lilongwe event was marred by violence, including the burning of a police armoured vehicle. Calm return after the military was deployed, witnesses said."
AFP: "Malawi's top court on Thursday [August 8] began hearing an opposition application to overturn the results of the presidential elections held three months ago, over alleged election irregularities."
Luke Tyburski, Atlantic Council's AfricaSource: "The use of white-out on results sheets in Malawi's May election has brought international media attention to the small southern African country, leading some to dub the polls Malawi's 'Tipp-Ex election' after the popular white-out brand….At the very least, it should be clear that white-out is not the sensational smoking gun the opposition and others have implied it to be. Still, a full audit is merited to resolve complaints and to verify that the election commission's data releases are legitimate."
Democratic Republic of the Congo General – December 30, 2018
Freedom House Rating: Not Free – Government Type: Semi-Presidential Republic
The DRC's December 2018 presidential and legislative elections, which took place after multiple delays, were mired in controversy and dispute. The election commission declared opposition leader Félix Tshisekedi the winner of the presidential poll, but the Catholic Church, which deployed 40,000 election observers and is a highly trusted institution in the country, said that their data indicated a victory for another opposition leader, Martin Fayulu. When Kabila's chosen successor, Emmanuel Ramazani Shadary, was polling too poorly for Kabila to credibly rig the election for him, Kabila cut a deal with Tshisekedi. The legislative elections – also highly disputed – produced a majority for Kabila's coalition. Major opposition figures Moïse Katumbi and Jean-Pierre Bemba were barred from the polls and spent the election cycle outside the country, but both have returned.
Koen Vlassenroot, Godefroid Muzalia, Emery Mudinga and Aymar Nyenyezi Bisoka, Democracy Audit UK: "How increasing civic participation reshaped the democratic space during Congo's 2018 elections"
Radio Okapi: "The group of national deputies declared elected by the Independent National Electoral Commission (CENI), validated by the National Assembly and invalidated by the Constitutional Court call the head of state, Felix Antoine Tshisekedi. In their statement on Saturday August 10 to the press in Kinshasa, they invite him to get personally involved in this issue and to give his position as a guarantor of the proper functioning of institutions….Last June, the Constitutional Court invalidated more than 33 parliamentarians, including 23 from the LAMUKA coalition, which had run for Martin Fayulu. Subsequently, the court reinstated ten opposition MPs."
Adrian Blomfield, The Telegraph: "Why is Ebola back? The virus has killed nearly 2,000 people in the last year"
The Gambia Presidential – December 1, 2016  and Legislative – April 6, 2017
Freedom House Rating: Partly Free – Government Type: Presidential Republic
In December 2016, The Gambia began a remarkable transition to democracy. Citizens removed dictator Yahya Jammeh peacefully, via the ballot box, and began the process of establishing a free society.
DW: "The Gambia: Three former hitmen released after admission at reconciliation commission The men belonged to the infamous 'Junglers' and allegedly took out multiple hits on the orders of former president Yahya Jammeh. They were released in a bid to encourage other perpetrators to come forward."
BBC: "Relatives of people murdered under the regime of The Gambia's former ruler Yahya Jammeh say they are outraged that the government plans to release three self-confessed assassins."
Jason Beaubien, NPR: "Why Everyone In Gambia Is Tuning Into A Broadcast About 'Truth'"
AFP: "Two Gambian soldiers accused of plotting to overthrow the government of President Adama Barrow were sentenced to three years in jail by a court martial, the military said on Wednesday [August 7]."
The Year Ahead: Africa
Guinea legislative (overdue – mandates of current legislators expired January 13 – date not set for new elections); Chad legislative (originally due in 2015 but have been delayed several times – unclear when they will. actually happen); Togo local by-elections (August 15); Namibia Oshakati East by-election (August 24); Zimbabwe by-elections (September);  Botswana parliamentary (October); Cameroon parliamentary (due October but delayed – new date not set); Mozambique presidential, legislative, provincial (October 15); Madagascar communal (due October 28 but postponed – new date not set); Nigeria Kogi and Bayelsa state gubernatorial (November 16); Guinea-Bissau presidential (November 24); Namibia presidential and legislative (November 27); Mauritius legislative (December); Senegal local (December 1); Somaliland congressional and local (December 12, 2019 – postponed and no new date set); Ethiopia parliamentary (May); Burundi presidential and legislative (May 20); Mali Parliamentary (due June but postponed indefinitely)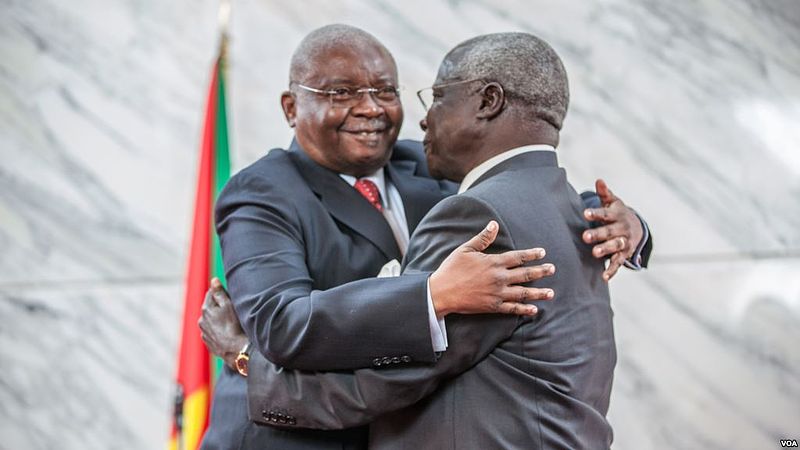 Mozambique's then-president Armando Guebuza and opposition RENAMO leader Afonso Dhlakama embrace following a 2014 peace agreement. Hostilities resumed, but the two factions just signed another peace deal as Mozambique gears up for elections in October. Photo credit: Voice of America (public domain)
21votes does not necessarily endorse all of the views in all of the linked articles or publications. More on our approach here.