Each day, 21votes gathers election news, analysis, and opinions from a different region of the world. We explore Africa on Mondays. Click the map pins.
Upcoming Elections
Liberia By-Elections – July 29, 2019
Freedom House Rating: Partly Free – Government Type: Presidential Republic
When President George Weah, a former footballer, was elected in 2017, Liberia saw its first peaceful transition of power since 1944. The country holds elections to the Senate in 2020, but is due to hold a Senatorial by-election this year.
Front Page Africa: "Liberia: All Elections Materials Ready; Montserrado By-Election Slated for July 29"
Zambia, Katuba By-Election – July 30, 2019
Freedom House Rating: Partly Free – Government Type: Presidential Republic
Zambia's next general election is due in 2021, but a by-election in Katuba, in the west of the country, because the incumbent – Patricia Mwashingwele of the opposition United Party for National Development (UPND) – died. The governing center-left Patriotic Front (PF) has 89 out of 166 in the unicameral National Assembly, and the main opposition liberal UPND has 58 seats. The 2016 presidential election was close – PF's Edgar Lungu ultimately prevailed in a poll that was marred by tension and allegations of vote rigging but ultimately judged credible.  
Lusaka Times: "Katuba by-elections heat up as PF accuses UPND of attacking its cadres"
AFP: "Hundreds of people wearing yellow T-shirts rallied on Saturday in Zambia's capital Lusaka – to kick start a campaign against corruption in President Edgar Lungu's government. The protesters – led by prominent anti-graft activists Laura Miti and musician Pilato (also known as Chama Fumba) – picketed outside the parliament, singing anti-government songs and waving yellow cards."
Somalia Jubaland State Presidential and Parliament (indirect) – August 2019
Freedom House Rating: Not Free – Government Type: Federal Parliamentary Republic
Somalia hasn't held direct elections in 50 years at the federal level, and at the state level, only the de facto independent Somaliland holds one-person-one-vote polls. The other states have electoral colleges with clan elders as electors. Somalia has federal elections due in 2020 and 2021, and hopes to move toward a one-person-one-vote model. However, the August Jubaland elections are not direct (which is why they are not on our big map). Politics – and conflict – throughout Somalia is largely based on clans, but efforts have been made to move toward a politics based on political parties. The terrorist group al-Shabab remains a menace.
Jubaland is rich in natural resources, raising the stakes of the election. Kismayo, the capital of Jubaland, this month saw the biggest terrorist attack since an action led by Kenyan soldiers ousted al-Shabab from the city in 2012.
Incredibly sad. Hodan Nalayeh, Somalia's 'inspirational' journalist, killed in Kismayo https://t.co/QSg7lKB0W1

— Freedom of the Press (@FreedomofPress) July 15, 2019
BBC: "Hodan Nalayeh prize: Somalia to honour journalist murdered by al-Shabab. Nalayeh, who grew up in Canada, returned to Somalia last year to highlight positive stories about her country of birth. She was among 26 people killed by al-Shabab militants in Kismayo on Friday."
Abdi Latif Dahir, Quartz: "In a cauterized nation caught between a troubled past and an uncertain future, senseless attacks and deaths continue to shape everyday life. The horror of these attacks are not just in the number of people killed but in how they engulf prominent, capable, intelligent, and hardworking Somalis who are determined to change the nation's course for the better."
Aggrey Mutambo, The East African: "Is Madobe ringfencing Jubbaland presidency?"
Noor Ibrahim, The Guardian: "Journalism can get you killed in Somalia, but we are not just poster children for desperation"
Zimbabwe National Assembly By-Elections, Glen View South and Mangwe constituencies – September 7, 2019
Freedom House Rating: Partly Free (improved from Not Free in 2019) – Government Type: Presidential Republic
A coup in 2017 led to the fall of Robert Mugabe, Zimbabwe's longtime dictator, who left a legacy of gross economic mismanagement and political repression. Mugabe had ruled Zimbabwe with the aid of former Soviet security advice since the transition of apartheid rule in 1979. The 2018 elections for parliament and president had a number of flaws but nonetheless did offer the hope of some semblance of democratic legitimacy to the government. Emmerson Mnangagwa of Mugabe's ZANU-PF – a former intelligence chief nicknamed "The Crocodile" – narrowly won the presidential race, and promised "radical economic reforms." However, critics say those reforms have not materialized as of yet, and a violent crackdown on the opposition following the elections echoed Mugabe's tactics. Zimbabweans live with extreme poverty, food insecurity, and hyperinflation.
The Glen View South seat became vacant when Vimbai Tsvangirai-Java, the daughter of Mugabe's main rival the late Morgan Tsvangirai, died in a car crash. Tsvangirai was leader of Zimbabwe's main opposition Movement for Democratic Change (MDC), and members of his family still serve in the party. The Mangwe seat became vacant when ZANU-PF's Obedingwa Mguni died of an illness. Glen VIew is near the capital, Harare, in the northeast of the country, and Mangwe is near Bulawayo, Zimbabwe's second city, in the southwest of the country.
Paidashe Mandivengerei, New Zimbabwe: "ETERNAL political foes Zanu PF and the MDC will once again lock horns in two distinctly different constituencies that need to be filled after they fell vacant due to natural wastage. After last year's general elections, Zimbabwe has consistently been in election mode with the MDC winning the by-election in Mutasa Central while Zanu PF last week won two Ward polls held in Manicaland and Masvingo."
The Zimbabwe Mail: "Tsvangirai's son to represent MDC in Glen view by-election"
Brenna Matendere, NewsDay: "THE Zimbabwe Electoral Commission (Zec) seems determined to ignore recommendations made by observer missions to level the political playing field and run free and fair elections, a top opposition official has said. MDC secretary for elections Jacob Mafume said the opposition party's experiences in the recently held Bikita and Nyanga by-elections showed that Zec is unwilling to reform."
Columbus Mavhunga, VOA: "Zimbabwe's Food Situation Moving Toward Emergency, UN Says"
Democratic Republic of the Congo Local Assemblies – September 22, 2019
Freedom House Rating: Not Free – Government Type: Semi-Presidential Republic
The DRC's December 2018 presidential and legislative elections, which took place after multiple delays, were mired in controversy and dispute. The election commission declared opposition leader Félix Tshisekedi the winner of the presidential poll, but the Catholic Church, which deployed 40,000 election observers and is a highly trusted institution in the country, said that their data indicated a victory for another opposition leader, Martin Fayulu. When Kabila's chosen successor, Emmanuel Ramazani Shadary, was polling too poorly for Kabila to credibly rig the election for him, Kabila cut a deal with Tshisekedi. The legislative elections – also highly disputed – produced a majority for Kabila's coalition. Major opposition figures Moïse Katumbi and Jean-Pierre Bemba were barred from the polls and spent the election cycle outside the country, but both have returned.
Radio Okapi (in French): "Kananga: churches raise awareness for holding local elections….since 2016, the National Episcopal Conference of Congo (CENCO) has, in its program of civic education and elections, trained more than 300 community leaders to take ownership of the electoral process."
AFP (in French): "The spokesman of the regime of former president Joseph Kabila, Lambert Mende, lost an [indirect] election for governor of a province in the center of the Democratic Republic of the Congo, and he denounced corruption in his own political camp."
Ed Yong, The Atlantic: "The WHO Finally Sounds Its Loudest Alarm Over Ebola in the Congo: The ongoing outbreak is the second worst in history and has proved to be unusually difficult to contain."
This is wonderful. Must read for today >> Congo's wheels: Obituary: Pierre Mambele died on June 8th https://t.co/n79LCIuNUL via @TheEconomist

— david pilling (@davidpilling) July 19, 2019
Cameroon Municipal, Legislative, and Regional – October 2019
Freedom House Rating: Not Free – Government Type: Presidential Republic
Cameroon is in the midst of several crises. Anglophone separatists seek to form a new country called Ambazonia. The government has accused them of terrorism. The crisis is currently deadlocked, with neither side willing to make concessions, leaving half a million people displaced.
Cameroon also faces a political crisis. President Paul Biya, at age 85 the oldest ruler in Africa, won re-election in October 2018, after having already spent 36 years in power. The election was marred by accusations of ballot-stuffing and intimidation of the opposition. The opposition claims Maurice Kamto actually won the election, and opposition supports have staged a number of protests, which the government answered with a harsh crackdown and hundreds of arrests, including the arrest of Kamto himself. Opposition parties are currently debating what to do about the upcoming municipal, legislative, and regional elections, which are likely delayed following a July vote by he National Assembly to extend its term in office. Biya's Cameroon People's Democratic Movement (CPDM) holds 142 out of 180 seats in the lower house. The Social Democratic Front is the main opposition in the legislature and hold 18 seats, while Kamto's Cameroon Resistance Movement (MRC) holds one seat.
AFP: "Cameroon President Paul Biya said Monday he was delaying local elections to 2020, a declaration read on the radio said Monday, the second time in two years that the poll has been postponed. 'The mandate of municipal councillors elected on September 30, 2013 has been extended until February 29, 2020,' Biya declared, which essentially sets the poll back until that date. No reason was given for the extension."
RFI (in French): "Cameroon opposition leader Maurice Kamto has been imprisoned for nearly seven months. Since then, the Cameroonian military justice has found him guilty of 'hostility towards the fatherland.'"
Mozambique Presidential, Legislative, and Provincial – October 15, 2019
Freedom House Rating: Partly Free – Government Type: Presidential Republic
Mozambique's politics have been dominated by FRELIMO, which has been in power since 1975, when Mozambique became independent, and the main opposition RENAMO. The parties evolved from armed groups that fought a civil war between 1976 and 1992 (and have engaged in clashes since, but currently have a ceasefire). The Soviet Union backed FRELIMO, while Rhodesia and then apartheid South Africa backed RENAMO.
RENAMO disputed the results of the October 2018 local elections, where it received its best-ever result, winning eight of 53 municipalities, but lost several others it had expected to win. RENAMO alleges the losses were due to fraud and irregularities.Mozambique faces an Islamist insurgency in the north and devastation from two tropical cyclones in spring 2019. The country discovered natural gas in 2009, and while major companies are interested in prospecting, it will be a long time before Mozambique sees gas wealth. In the upcoming elections, in addition to voting for president, citizens will elect provincial governors directly for the first time – previously, they had been appointed by the president.
Lisa Schlein, VOA: "Nearly 2 Million Cyclone Survivors in Mozambique at Risk of Severe Food Shortages"
Amnesty International: "The main opposition candidate in a landmark election for the governorate position of Zambézia province in central Mozambique is facing death threats and intimidation ahead of the October vote, Amnesty International said today. Manuel de Araújo is the candidate for the main opposition party Mozambique National Resistance's (RENAMO); he is currently the mayor of Quelimane."
Teresa Xavier, RFI (in Portuguese): "Manuel de Araújo is the second Renamo mayor, after Paulo Vahanle de Nampula, to receive death threats this year."
George Tubei, Business Insider by Pulse: "On Monday, Maria Alice Mabota, a human rights activist and former chairperson of the country's Human Rights League, filed her nomination papers for the presidential election scheduled for 15 October, effectively becoming the first female to do so since multiparty democracy was introduced in 1992."
Agencia de Informacao de Mocambique, AllAfrica: "Renamo Vows to Use Legal Means to Overturn Gaza Voter Registration: Venancio Mondlane, the national election agent of Mozambique's main opposition party, the former rebel movement Renamo, declared on Monday that Renamo will use all possible means permitted by the country's laws and Constitution, to overturn what it regards as a fundamentally flawed and manipulated voter registration."
Agencia de Informacao de Mocambique, AllAfrica: "The spokesperson for Mozambique's National Elections Commission (CNE), Paulo Cuinica, on Friday [July 19] insisted that the figures from the voter registration in the southern province of Gaza are reliable – even though they are in gross contradiction with the estimates for Gaza's population given by the National Statistics Institute (INE)."
Sebastiane Ebatamehi, The African Exponent: "Maria Alice Mabota will contest the elections as the candidate of a coalition referred to as the Democratic Alliance Coalition."
To our brothers & sisters in #Mozambique, we will be standing with you during your elections on October 15.#TheBANTUGroup #AliceMabota #TheFutureIsFemale #HistoryInTheMaking pic.twitter.com/IcpLwUzfVt

— BANTU (@TheBantuGroup) July 16, 2019
Namibia Presidential and Legislative – November 27, 2019
Freedom House Rating: Free – Government Type: Presidential Republic
Namibia is a free, stable democracy. Since independence from South Africa in 1990, Namibian politics have been dominated by the socialist SWAPO, an independence movement-turned-political party. In the 2014 elections, judged free, fair, and credible by observers, SWAPO's presidential candidate, Hage Geingob, won 87 percent of the vote. The party also won 80 percent of votes in the legislative elections. The Economist Intelligence Unit predicts that SWAPO will win the 2019 elections but its majority will decrease.
New Era Live: "With Namibia's elections slated for November, Youth Corner's Aletta Shikololo and Paheja Siririka gauged the young people's views on whether the youth are interested in voting"
APA News: "Namibia: Ruling SWAPO jittery over independent candidates. As has become tradition, SWAPO is again confident of cruising to victory in the upcoming general elections set for November. There is a slight problem, though. One of SWAPO's own has broken ranks with the party and has decided to contest against President Hage Geingob as an independent."
Editorial |With voter apathy a genuine and constant challenge, it boggles the mind how the Electoral Commission of Namibia (ECN) is adding to the problem rather than solving it. https://t.co/ouic4SX9RY pic.twitter.com/PXzSbSMZlT

— The Namibian (@TheNamibian) July 20, 2019
Hileni Nembwaya, The Namibian: "BATTLE lines have been drawn as a total of six candidates registered with the Electoral Commission of Namibia (ECN) to vie for the position of constituency councillor in the upcoming Oshakati East constituency by-elections."
SWAPO campaigns for Abner Shikongo in Oshakati East by-electionhttps://t.co/EChzjcSd0q pic.twitter.com/JeOwc21Bte

— nbcnews (@newsonnbc) July 21, 2019
Guinea-Bissau Presidential – November 24, 2019
Freedom House Rating: Partly Free – Government Type: Semi-Presidential Republic
In March 2019, Guinea-Bissau finally held long-delayed legislative elections. The ruling African Party for the Independence of Guinea and Cape Verde (PAIGC) won 47 out of 102 seats, but made deals with three smaller parties to form a coalition with 54 seats. Prone to coups (most recently in 2012), no elected leader has served a full term since independence from Portugal. The country remains in a political crisis, with President José Mário Vaz (known as Jomav) in a feud with his own party (PAIGC). Vaz plans to run for re-election. Sometimes dubbed "the world's first narco-state," it risks once again becoming a hub for drug traffickers. 
Dakaractu (in French): "Four candidates declared for the presidential election in November."
Braima Darame, DW (in Portuguese): "Guinea-Bissau: PM accused of appointing unqualified family members. Citizens' Movement says that it would be wise if the prime minister reduced the number of appointed advisers and advisors from 21 to 5. Advisor to Aristides Gomes says the issue is politicized."
Ethiopia Parliamentary – Due May 2020
Freedom House Rating: Not Free – Government Type: Federal Parliamentary Republic
Following three years of protests, Ethiopia's ruling Ethiopian People's Revolutionary Democratic Front (EPRDF) chose reformer Abiy Ahmed as prime minister. Abiy began a historic process of democratization, including releasing political prisoners and opening up Ethiopia's previously closed political space. However, Ethiopia's reformers face many obstacles. Nonetheless, many Ethiopians are hopeful. However, violence could threaten Abiy's reforms.
In the 2015 elections, the EPRDF won 100 percent of the parliamentary seats.
Al Jazeera: "At least 17 people have been killed in clashes between Ethiopian security forces and activists seeking a new autonomous region for their Sidama ethnic group, according to a local official and hospital authorities."
Fred Oluoch, The East African: "Ethiopia risks splitting into small regional units if the government allows the Sidama in the south to declare its own state in five months. Though the push for unilateral declaration of a Sidama federal state by July 18 was thwarted after the election board of Ethiopia promised to hold a referendum in five months, the government is facing a delicate balance between allowing the Sidama state and setting a precedent for other regions like Tigray in the north, or blocking the separation and inviting violence."
Terrence Lyons and Hilary Matfess, Washington Post's Monkey Cage: "What's behind Ethiopia's recent political violence? Prime Minister Abiy faces a serious test: Preparing the country for the 2020 elections."
Burundi Presidential and Legislative – May 20, 2020
Freedom House Rating: Not Free – Government Type: Presidential Republic
In 2015, President Pierre Nkurunziza ran for a third term, which critics said was unconstitutional. Nkurunziza's decision sparked a political crisis. The opposition boycotted the election. Nkurunziza won, but the election was marred by violence and a coup attempt. In 2018, Nkurunziza said he would step down in 2020. Burundi's 12-year civil war ended in 2005, but violence and authoritarianism have been on the rise. Many Burundians are nervous about the upcoming polls.
Mohammad Yusuf and Venuste Nshimiyimana, VOA: "Press freedom advocates are coming down hard on Burundi, after increasing restrictions prompted the BBC to shut down its bureau in the central African country this week. Burundian authorities have also suspended VOA from operating in the country since March and have threatened sanctions against Radio France International."
Côte d'Ivoire Presidential and Legislative – October 31, 2020
Freedom House Rating: Partly Free – Government Type: Presidential Republic
Anna Sylvestre-Treiner, Jeune Afrique (in French): "Alassane Ouattara has absolute confidence in his faithful Prime Minister Amadou Gon Coulibaly and would see him succeed him. But will the latter succeed in winning?"
AP: "Judges at the International Criminal Court have issued lengthy explanations for the decision to acquit Ivory Coast's ex-president on crimes against humanity charges resulting from postelection violence in 2010."
Chad Legislative and Local – Due 2019
Freedom House Rating: Not Free – Government Type: Presidential Republic
Idriss Déby seized power in a rebellion in 1990, and although the country holds elections, there has never been a change in power by a free or fair vote. Western governments, particularly France, view the Déby regime as a security partner in countering terrorism in the region, and provide military aid. Opposition activists face arrest and mistreatment. There are concerns that the regime uses counterterrorism as an excuse for suppressing legitimate political opposition.
The mandate of the current National Assembly expired in 2015, and the elections have been delayed multiple times. In 2018, President Idriss Déby announced that the elections would happen in the "first half of 2019," without giving a date, but in May 2019, the government delayed the elections indefinitely again, citing cost. The opposition holds that the real issue is a lack of political will.
Abdi Latif Dahir, Quartz: "After a year, three months, and 17 days, the Republic of Chad finally lifted restrictions on accessing social media outlets…. The social media blackout began on March 28, 2018, following a tense political moment when Deby was pushing plans that would see him rule the central African country until 2033."
The Economist: "Idriss Déby, Chad's despot, is struggling to stay in power"
Guinea Legislative – 2019 and Presidential – October 2020 (due)
Freedom House Rating: Partly Free – Government Type: Presidential Republic
Elections in Guinea routinely see significant delays and have historically been surrounded by ethnic tensions and violence. President Alpha Condé, a former opposition leader who came to power in 2010 following a transition from military to civilian rule, is prevented by the constitution from running for a third term in the presidential polls due in 2020. However, he wants to change the constitution to allow him to do so (which Russia is encouraging because Russian companies have mining interests in Guinea). The terms of the current legislators expired in January 2019. Condé extended their mandates, and a new election date has not been set.
Jim Wormington, Human Rights Watch: Critical Time for Human Rights in Guinea: UN Should Push Government to Protect Rights Ahead of 2020 Elections"
"Since President Alpha Condé came to power in 2010 – ending five decades of authoritarian rule – Guinea has made significant progress in strengthening the rule of law, particularly by improving oversight of security forces and limiting the role of the army in law enforcement. Now though, with presidential elections set to take place in late 2020, a rights crisis may return."
Diawo Barry, Jeune Afrique (in French): "Alpha Condé and Cellou Dalein Diallo, a showdown over a constitutional reform: For the last ten years, the Guinean president and his main opponent have accused each other of endangering the stability of the country. And the debate over a constitutional amendment that could enable Alpha Condé to run for a third term has further increased their mutual enmity."
"Conde's attempt to cling on to power presents the African Union with a prime opportunity to redeem itself, deter constitutional coups and support democratic alternation of power." –@AdamAbebe https://t.co/I6CGkIe3bZ https://t.co/PqPfXH1fPD

— Jeffrey Smith (@Smith_JeffreyT) July 18, 2019
Sudan Ongoing Crisis
Freedom House Rating: Not Free – Government Type: Presidential Republic
In April, nonviolent demonstrations ousted Sudanese dictator Omar al-Bashir. In June 2019, around the 30th anniversary of Tiananmen Square, Sudanese troops massacred citizens protesting the regime.
Dabanga: "At least 246 people have been killed and 1,353 others injured since the outbreak of the anti-government protests in mid-December, according to the Sudan Doctors Central Committee. At a press conference in Khartoum on Thursday, the Doctors Committee reported that security forces were responsible for 43 deaths from the beginning of the uprising in mid-December 2018. 83 per cent of the victims were killed after April 11, the date President Omar Al Bashir was ousted in a military coup."
Nadine Awadalla, Khalid Abdelaziz. Reuters: "Sudanese demonstrators on Thursday [July 18] rolled out a banner honoring fallen protesters over a square where ousted president Omar al-Bashir held a large rally in his final months in power, a symbolic move that left some in tears."
Naba Mohiedeen, VOA: "Sudan's ruling Military Council and a coalition of opposition groups signed a power-sharing accord in Khartoum Wednesday.  Analysts say the accord is an important step forward after months of unrest, but not everyone is convinced it is a new beginning for Sudan. The accord calls for a three-year transitional period leading to elections for a civilian-led government.  A ruling 'sovereign council' will have six members from the opposition FFC and five from the TMC."
Noha Elhennawy , AP: "Sudan's pro-democracy movement is seeking to postpone the signing of the second and possibly more contentious part of a power-sharing agreement with the country's military, saying Friday that it needs more time to resolve differences among its members over the deal."
Michael Woldemariam and Alden Young, Foreign Affairs: "What Happens in Sudan Doesn't Stay in Sudan? Will Khartoum Become the Center of a New African Order or an Appendage of the Gulf?"
Peter Munaita, The East African: "The resistible rise of a warlord to Sudan's political helm"
Mohammed Alamin and Okech Francis, Bloomberg: "A one-time camel trader turned leader of a Sudanese militia known as the 'devils on horseback' now holds the fate of Africa's third-largest nation in his hands."
Somalia Parliamentary – Expected 2020 or 2021
Freedom House Rating: Not Free – Government Type: Federal Parliamentary Republic
Somalia hasn't held direct elections in 50 years at the federal level, and at the state level, only the de facto independent Somaliland holds one-person-one-vote polls. The other states have electoral colleges with clan elders as electors. Somalia has federal elections due in 2020 and 2021, and hopes to move toward a one-person-one-vote model. However, the August Jubaland elections are not direct (which is why they are not on our big map). Politics – and conflict – throughout Somalia is largely based on clans, but efforts have been made to move toward a politics based on political parties. The terrorist group al-Shabab remains a menace.
Somali opposition leader faults formation of election bill committee | Somali Affairs https://t.co/ImavE1pcJg

— Abdirahman Abdishakur (@AAbdishakur) July 21, 2019
Garowe Online: "The Government of Puntland said it is deeply concerned about the leadership behavior of the Federal Government of Somalsia amid strained relations, Garowe Online reports. In a strongly-worded statement released by the presidency on Sunday, July 21, Puntland has accused Mogadishu-based Government of opposes the process of state-building based on rule of law."
Somaliland Legislative and Local – November 1, 2019
Freedom House Rating: Partly Free – Government Type: De facto independent state (technically part of the Federal Parliamentary Republic of Somalia)
Somaliland has de facto but not internationally-recognized independence from the failed state of Somalia. The last elections for the House of Representatives happened in 2005. The upcoming elections set for November 2019 were due in 2010 but faced multiple delays. Despite the lack of recognition, Somaliland is a functional state with more freedom and better governance than the rest of Somalia.
MENAFN – SomTribune: "This week, Somaliland Foreign Affairs ministry said it would push ahead with efforts for recognition, whether Somalia likes it or not."
Fred Oluoch, The East African: "Somaliland snubs talks with Somalia"
Uganda General – February 2021
Freedom House Rating: Not Free (downgraded from Partly Free this year) – Government Type: Presidential Republic
President Yoweri Museveni has held power since 1986 and looks likely to seek a sixth term. Musaveni is seen as an ally to Western governments on counterterrorism issues, despite concerns about human rights and civil liberties.
Musaveni's National Resistance Movement (NRM), an authoritarian nationalist party, was originally a militia involved in the struggle to topple the government in 1986. In the last presidential election in 2016 (which was marred by an uneven playing field and government use of state resources and security services for political purposes), which wasn  Kizza Besigye of the main opposition center-right Forum for Democratic Change (FDC) won 35.6 percent, coming in second. NRM holds 293 out of 426 seats in parliament, and FDC holds 36 (other opposition parties hold 21).
Today, we were supposed to appear in Rukungiri &Mbarara Courts at the same time, where we face similar trumped-up charges since 2017! There was miscommunication. Now summoned by both courts to appear again on same day!
We shall overcome.
https://t.co/umL6cq03cO via @dailymonitor

— Kifefe Kizza-Besigye (@kizzabesigye1) July 19, 2019
Podcast, Financial Times: "David Pilling takes us on a tour of the African ghetto he visited with Bobi Wine, the rap singer turned politician, who has confirmed he will challenge Yoweri Museveni for the presidency of Uganda in 2021."
One of the most laughable crimes in Uganda is "Insulting the person of the president." Can you imagine being jailed over insulting someone who you vote for, pay his salary and his family? Again someone who continuously fails in your expectations of what leadership should be. pic.twitter.com/bS6OvWXLX1

— Kemigisa Jacky (@JackyKemigisa) July 15, 2019
Past Elections
Togo Local – June 30, 2019
Freedom House Rating: Partly Free – Government Type: Presidential Republic
These elections happened in the context of widespread protests that began in 2017 demanding the resignation of President Faure Gnassingbé, whose family has ruled Togo for 50 years, the longest-ruling family in Africa. In December 2018, the C14 coalition of opposition parties boycotted legislative elections and their supporters did not vote, but Gnassingbé's party still managed to lose seats. However, a brutal crackdown has led to reduced morale for the opposition.
In May 2019, the legislature approved a constitutional change that would allow Gnassingbé to remain president until 2030, despite protests and calls for the family to be removed from power. The opposition will participate in the June 30 local elections, both as candidates and voters. Protests are likely to heat up again as the country heads toward the 2020 presidential elections.
IciLome (in French): "Yesterday Wednesday, July 17, 2019, the Supreme Court released the final results of the June 30 municipal elections. 1464 were confirmed from the 1490 elected city councilors with a participation rate of 52.46%."
BBC (in French): "The final results give the party power to the Union for the Republic, wide winner of the seats of municipal councilors, with 878 councilors seats out of a total of 1490 seats to be filled. It is followed by the ANC of Jean Pierre-Fabre with 132 seats. The opposition C14 coalition wins 131 seats, while the other political parties and independent candidates share the rest. After the proclamation of the final results, the elected councilors will designate by their elective vote the mayors and their deputies at the head of the communes of Togo."
Au Togo: "No boycott this time for the C14 and the ANC representing a good fringe of political opposition in Togo. In its heterogeneous composition, the opposition participated in the municipal elections of June 30th. This was not the case for the last parliamentary elections of December 20, 2018. Absent parliament, she hopes to control many municipalities even if she had no candidates in all municipalities. Sign of a gradual easing of the national political situation and a strengthening of democracy."
Mauritania Presidential – June 22, 2019
Freedom House Rating: Not Free – Government Type: Presidential Republic
Mauritania's incumbent president, Mohamed Ould Abdel Aziz, came to power in a military coup in 2009 and the country is rated "not free" by Freedom House, but some hope that political space could be opening up, albeit slowly. While most believed that the ruling Union for the Republic party's candidate, Defense Minister Mohamed Ould Ghazouani, would win (and he was indeed declared the winner), opposition candidates, including anti-slavery activist Biram Dah Abeid, participated. This contrasts with the 2014 presidential election, which the opposition boycotted. There are concerns about the electoral process and the lack of international observers.
Kamailoudini Tagba, North Africa Post: "Prominent Mauritanian journalist Ahmedou Ould Wedia was freed Monday after spending nearly two weeks in jail. He had been abducted on July 4 in the wake of late June Presidential elections….His family reported him missing few days after the June 22 elections, won by regime candidate Mohamed Ould Ghazouani."
Afef Abrougui, Global Voices: "Al-Wadea was not the only journalist arrested in post-election repression. On June 26, police arrested Seydi Moussa Camaras, another journalist known for his criticism of the government….Authorities also arrested several opposition figures, Amnesty said in a statement on June 27. Among those arrested is Samba Thiam, leader of the Progressive Forces for Change, and was released at the beginning of July."
March for our votes in Mauritania!#Notoriggedelections#Freeourdetaines#Endslaverynow#Anothemauritaniaispossible pic.twitter.com/LtwtgrDmby

— HOULEYE THIAM (@girlfpc) July 15, 2019
Malawi Tripartite (Presidential, Legislative, Local) – May 21, 2019
Freedom House Rating: Partly Free – Government Type: Presidential Republic
Peter Jegwa Kumwenda, BBC: "Malawians have taken to the streets in all cities and major towns to protest against the manner in which last May's elections were conducted. Nearly two months since the elections were held, political tension remains high as election results are being challenged in court by the opposition."
U.S. Embassy in Lilongwe: "The United States urges all parties to respect the right to peaceful protest enshrined in the Malawi Constitution, while avoiding violence and inflammatory rhetoric. We encourage Malawians to follow a peaceful and lawful process to resolve electoral disputes, particularly through the Malawi Constitutional Court hearing on petitions challenging the results of the May 21 presidential elections."
Centre of demonstrations, in today's demonstrations #Malawi some protestors have dressed a dog #politicalpartycolours, these protesters are demanding th@ #MEC chair #JaneAnsah resigns … thanx @RMbetewa for the pix, @shingainyoka, @Chimango_1, @ChimoyoEarlene, @Malawi2014 pic.twitter.com/OsgNKZPEeJ

— Tamanda Matebule (@MatebuleTamanda) July 19, 2019
The Gambia Presidential – December 1, 2016  and Legislative – April 6, 2017
Freedom House Rating: Partly Free – Government Type: Presidential Republic
In December 2016, The Gambia began a remarkable transition to democracy. Citizens removed dictator Yahya Jammeh peacefully, via the ballot box, and began the process of establishing a free society.
BBC: "The Gambia's revolution: What has changed? In 2016 Gambians showed the world the power of democracy when they removed President Yahya Jammeh through the ballot box. Now there are concerns the new President, Adama Barrow, may also try and cling to power."
CBC: "This Toronto woman says a Gambian dictator raped her. Now she's fighting for justice"
Sheriff Bojang Jr., The Chronicle: "Prominent human rights lawyer and investigator Reed Brody has told The Chronicle that the current allegations of abuse against ex-president Yahya Jammeh will make it harder for Equatorial Guinea to refuse to hand him over for trial when the time comes. Brody, an American with Human Rights Watch, is part of a group which aims to bring the former president to justice for alleged atrocities and human rights abuses."
Reed Brody, Mail and Guardian: "Yes, victims can bring Gambia's dictator to justice"
The Year Ahead: Africa
Guinea legislative (overdue – mandates of current legislators expired January 13 – date not set for new elections); Chad legislative (originally due in 2015 but have been delayed several times – unclear when they will. actually happen); Liberia by-elections (July 29); Zambia by-election in Katuba (July 30); Namibia Oshakati East by-election (August 24); Zimbabwe by-elections (September 7); Democratic Republic of the Congo local (September 22); Botswana parliamentary (October); Cameroon parliamentary (scheduled for October but likely delayed); Mozambique presidential, legislative, provincial (October 15); Somalia, Somaliland congressional and local (November 1, 2019 – tentative); Guinea-Bissau presidential (November 24); Namibia presidential and legislative (November 27); Mauritius legislative (December); Senegal local (December 1); Mali legislative (May 2020 – long overdue – additional delays possible)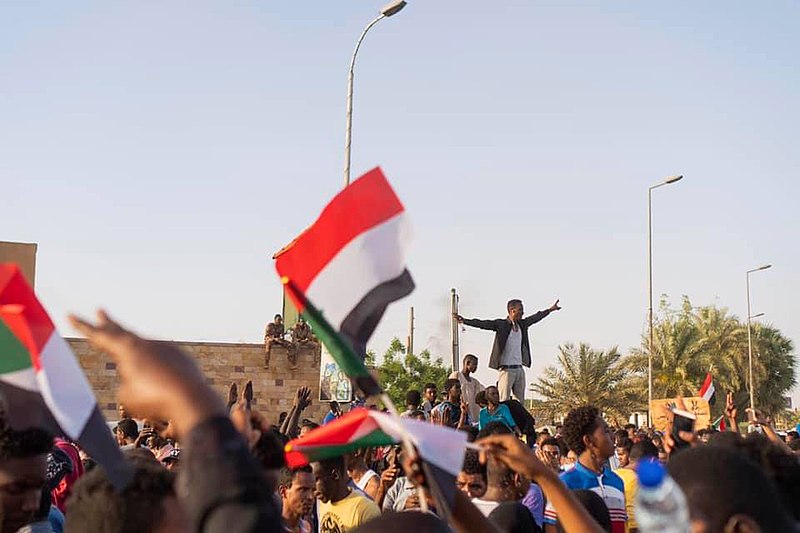 Sudanese protesters near the army headquarters in Khartoum, April 2019. Photo credit:
Wikimedia/M. Saleh
CC BY-SA 4.0
21votes does not necessarily endorse all of the views in all of the linked articles or publications. More on our approach here.